.:And Archie Has Chosen...:.
DO NOT READ IF YOU DO NOT WANT TO BE SPOILED!!!!!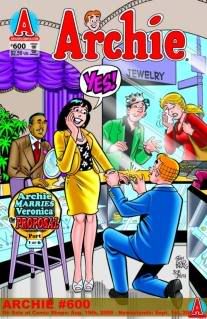 Veronica!


In what appears to be a landmark storyline for Archie Comics, the 600th issue will feature a "future" storyline wherein Archie proposes to Veronica Lodge after college. As this is a storyline that is out of the "continuity", since after this arc is done, we revert to the status quo of the eternal love triangle.

Nonetheless, I'm hoping to get my hands on a copy of this special issue. I want to know how the storyline plays out, and I want to find out what's in the books for Betty, if she really doesn't end up with Archie.

This definitely bears watching.