.:Who Let The Dogs Out?:.
I've never hosted a pet show in my life, so my first experience of being surrounded by dogs, some turtles, and an iguana was an incredibly memorable experience. Last May 24, I ended up hosting SM North's "Summer Pet Fair in the City," and it was a blast!
So there I was in SM North, just completely overwhelmed by the sheer number of people who were there, and obviously the sheer number of dogs as well. I love dogs, but to see that many of them in one place, all running around, all completely well-trained, well, it's quite a sight.

It's a petting zoo!


Kids had fun with the animals, and the adults were competing in Mondial Ring, weight pulling, and even Frisbee throwing. We managed to see a dog pull well over 3,000 pounds, and it was simply unbelievable. Apparently, the Philippine record for weight-pulling for dogs was held by the white American Bulldog named Justice. Dogs demonstrated their abilities to jump, to know when to attack and not to attack a stranger based on their gestures, and so on and so forth. It was just so much to take in, and I had to learn the "language", so to speak, as many terms and activities seemed to be standard practice for the participants, and I was rather uninitiated to them.

And yeah, the R. Lapid's Chicharon jingle? Incredibly LSS-inducing.

One of the highlights from the non-competitors that day was this dog that I encountered, a Labradoodle. Apparently, it's possible to crossbreed a Labrador and a Poodle, and this is what you get...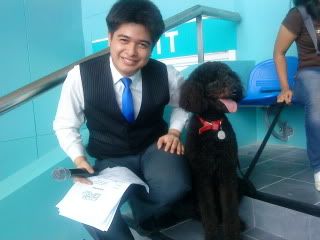 The one to my right, silly!


I also met a bulldog who had a heat stroke...



Poor doggie...


And amusingly enough, the turtles were the only ones who ever managed to bite anyone during the entire event (Not counting the owner protection demos, of course.). That being said, I have a cool picture of me with an iguana...



Ferocious!


Having said all of that, this was one amazing experience, and I've discovered for myself that I can actually handle hosting pet shows now. The event was capped by a special performance from Atty. Byron and his German shepherd, Booger, who apparently can dance to "Staying Alive", by the Bee Gees!

The dog is even trained to pose for the camera...



Nice doggie...


One for the books, no question about it. I've always been a dog person, so acquitting myself well by hosting this huge event is quite a feather in my hosting cap, to say the least...