.:Tuesday Rush:.
Tuesday saw me so occupied with stuff I had to accomplish out of the office, but I was definitely happy about my progress. Thing is, when we talk about "rush", it's normally a bad thing, but given the rush I'm sure to experience this July 19.
Last Tuesday night, Globe launched their Run For Home project: a city run for Habitat For Humanity. There will be several races, one in the 3KM, 5KM, 10KM, and 21KM category each, and since I'm not a professionally trained runner and I've never had a real running race in my life before, I opted for the 5K run, which I feel is something I can handle doing, although there is no chance in Hades that I'd win the run. Heh.
Thing is, Globe's not just having a run for H4H, they're actually pulling out all the stops for it, all the same. They're bringing disposable electronic timing chips into the country for the first time ever, which should be a watershed for future running events in the country.
Registration started last June 19, and it ends on July 3, via the Globe website, or at participating Globe business Centers, Fitness First Branches, and Runnr in the Fort. For more information, go ahead and log onto
The Globe Run For Home page
. Given my disdain for politics since the end of my high school life, this is the only "running" you'd ever expect from me, anyways.
.:Gwapo Rock Vs. Sugarfree Night... Guess Who Won Out:.

Obviously, this is Judd's photography.


I haven't gone to a gig in a while, so I was itching for one, when my co-worker,
Judd
, suggested we catch "Gwapo Rock" night in Mag:Net Bonifacio High Street. Looking for other buddies I can ask to watch, my usual gig buddy,
Sarah
, practically ran away screaming at the mention of the lineup. Apparently, not everyone appreciates Hale, Spongecola, and 6 Cycle Mind as much as I do, but meh.
Thankfully, Sarah had another idea, and we ended up going to Route 196 instead to catch Sugarfree night, in commemoration of Sugarfree's 10 years in the industry. Performers slated that night were Julianne, The Ronnies, The Itchyworms, and (duh) Sugarfree.
So we went there, and had the time of our lives. I've always been a big fan of Sugarfree, and "Mariposa" is simply one of my favourite songs of all time, so it was quite an experience watching a night dedicated to them. I was beside myself singing along the entire night, not to mention the fact that Itchyworms, one of my other favourite bands, performed as well. They even had a cover of the Oktoberfest jingle. LOL. That, and they sang "Beer", though next time, I really wanna hear "Loveteam". Hehe.
Sugarfree's set was nothing short of awesome. I've said it before, and I'll say it again: "Mariposa" is my favourite Sugarfree song, and hearing them sing it live never fails to make me stand up and cheer. Guaranteed.
This was a night to remember, and of course, here's me, Sarah, and Ebe!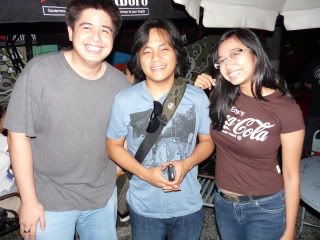 Sugarfree rocks! (But I wonder if 6 Cycle sang "Gusto Na Kita?")