.:Today's LSS:.
I like this song. I like the two segments between The Rock and Mick Foley that sort of involved this. This is just a song you have to sit down and ask yourself about every now and then...
This Is Your Life
by Switchfoot

yesterday is a wrinkle on your forehead
yesterday is a promise that you've broken
don't close your eyes, don't close your eyes
this is your life and today is all you've got now
yeah, and today is all you'll ever have
don't close your eyes
don't close your eyes

this is your life, are you who you want to be
this is your life, are you who you want to be
this is your life, is it everything you dreamed that it would be
when the world was younger and you had everything to lose

yesterday is a kid in the corner
yesterday is dead and over

this is your life, are you who you want to be
this is your life, are you who you want to be
this is your life, is it everything you dreamed that it would be
when the world was younger and you had everything to lose

don't close your eyes
don't close your eyes
don't close your eyes
don't close your eyes

this is your life are you who you want to be
this is your life are you who you want to be

this is your life, are you who you want to be
this is your life, are you who you want to be
this is your life, is it everything you dreamed it would be
when the world was younger and you had everything to lose

and you had everything to lose
.:This Will Be A Long Recap:.
As I was practically not blogging for quite a while, I am going to be making up for it all today in one felling swoop. Let's get to it, but first...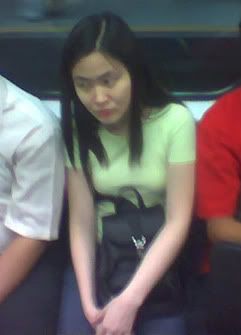 My stalking skills have gotten better. I have just stalked Sadako.


Saw this girl walk into the LRT last Tuesday night, and I just had to take her picture. This shot is rather unflattering, though, because her eyes make her look like Sadako in this shot. Nonetheless, I might've seen this person before, though...

At the same time, look at these things of beauty...

Unlimited Ancestral Recall
Beta Ancestral Recall

Okay. Onto my recap.

.:Friday, 14 January, 2005:.

Classes were fine. Fr. Ferriols was exceptionally funny today, although he was leading us lambs to the slaughter because we had a long test to deal with on Wednesday. Nonetheless, it was all good, really.

That girlfriend of the month in a certain magazine looks like Daph... hmmm... and I ran into JayBee in Gateway Mall recently.

At lunch, Dr. Ibana, Jacqueline Jacinto, and I had a meeting at Gayuma, as was the weekly tradition for us. It was interesting, to say the least. I found out Jack wanted to go to law school but is still thinking twice about it, and that her boyfriend is in Ateneo Law, and is actually Don Umali's friend. In any case, things were fine for the most part, as I just stayed around the store for a while before going home. Grace and I then planned a trip to Avenida to purchase more films on Saturday.

.:Saturday, 15 January, 2005:.

So there I was on my first day doing Saturday boardwork with Jean, who was now using Gia as an air name. I don't really know, considering how it's been a while since we were officially working together, but the main thing I noticed about her was that ever since certain things have happened , she has been a bit different. Not necessarily worse, but different. There's a lot of playing up on a "loveteam" though, the way I told her that since it's been a while since I last worked with her, I was "Officially Missing" her, since the song playing was Tamia's "Officially Missing You".

After my boardwork, I had a dental appointment. No need to talk about that... heh.

Afterwards, Grace and I headed off to Avenida again, where we had our fill of lovely DVD's. I was seesawing between getting films like Seven Samurai and Lost In Translation, but I still got quite a few titles: Kill Bill Vol. 2 (Clearer copy.), American Wedding, You Got Served (For Grace.), Supersize Me, Fahrenheit 9/11, Eternal Sunshine Of The Spotless Mind (Clearer copy.), Audition (From the director of Ichi the Killer.), House Of Flying Daggers, Life Of Brian (!), and The Classic (From the director of My Sassy Girl.). I really had a lot of fun searching for all these films there, particularly the ones that I knew I couldn't find anywhere else, anyways, such as Audtion and The Classic.

It was fun hanging around with Grace, really. I was so happy that we found the time to do this, because I'm really turning into such a film buff (Current mainstream for the most part, and Asian films only, though. Maybe a few European films, but nothing Fr. Nick or Peppy and other Monty Python enthusiasts haven't shown me.), as some of my friends have observed.

.:Sunday, 17 January, 2005:.

My boardwork was mostly solo actually. Jean arrived a bit late, and apparently she was so underslept from partying the previous night. Nonetheless, the boardwork wasn't so bad. I was getting the hang of the songs we play during the morning, although there's still nothing quite like my noontime boardwork. Heh.

After the boardwork that was just absolute weirdness for me, I went to the 7th Realms Vintage tournament in Game Frog at Metrowalk. I found the tournament pretty entertaining, even if I did pretty miserably... heh. I went 2-4, and my counter-t3ch for Oath Of Druids decks never turned up in my match against the Oath deck: the Orchard never showed up. I also had a few play errors that could've been avoided. Regardless, it's all good. I enjoyed myself there, and it was fun talking with these players, as they were really nice people. One of the members, NeoTemplar, was also fond of GTO, and commented about my avatar.

I wanted to play my budget Doomsday, but unfortunately, DC777's package that contained Unmask was in the post office by Friday afternoon, preventing me from managing to claim the package because the post office closes at around 4:00 PM. Oh, well. It was all good, though.

It was funny that the deck I ran was pretty t3ched out, though. Due to lack of Power 9 cards, I had to make some key substitutions for my 7/10 Split deck. I managed to get some great game wins here and there, though. Sundering Titan is plainly brutal.

.:Monday, 17 January, 2005:.

I was rather motivated to finally get a piece of power, so my uncle and I were really driving to get an Ancestral Recall on E-Bay. The previous night, we were outbid by someone in the last ten seconds of the auction, as he most likely had an auto-bid option available to him. It was frustrating as time ran out on us and we didn't get the Ancestral Recall, but that was replaced by a sheer effort to win the next auction we gunned for. I was on board when I was monitoring the auction, and it just ended with us winning the card for $417.26, with shipping. It was splendid, truth be told, and little did I know that we were going to follow that up quite successfully.

The Recall looked to be in mint condition, and was unplayed. Looking at its scan, I find the card to be simply beautiful. Still, I owe my uncle big time for this favor. I then restarted my own E-Bay account and set my sights on another Ancestral Recall in hopes of selling the Unlimited one I just won. This was because another seller was selling a Beta Edition Ancestral Recall.

I then went to Grace's house to finish a paper I was translating from English to Filipino and then printed it out. It was interesting, because I was practically running Gabby's Dictionary all throughout just to make sure I was getting things right. Grace just looked on at me type like a madman, but it was all worth it, even if I was ticked off as Hades at the sumbish who decided to not submit the two paragraphs he was supposed to translate. In addition to my one paragraph and the fact that I had to edit the whole translation for cohesion, I then had to translate those two ruddy paragraphs myself. Grr...

And, yeah. I saw "Supersize Me". Let' just say that I'm glad I haven't been into fast food lately, and it not only saves me money, but it turns out it keeps me healthier as well.

.:Tuesday, 18 January, 2005:.

The auction for Ancestral Recall number 2 was supposed to end at 3:12 AM on Wednesday. I had an interesting time talking to Jeff and Elgine in my class, so truth be told, I was fairly occupied. It wasn't so bad, really. It's just that most of the interesting things that happened during my day happened in the middle of the night when I was doing the bidding myself instead of my uncle. Before I left for home, I left a bid of $286 on the Beta Ancestral Recall.

Grace had an interesting experience, though. Apparently, the taxi driver she took with her sister was trying to channel Madame Auring, as he attempted to predict that Stephie, my goddaughter, was going to be a good kid, and that her mom had a similar attitude, but she and her husband wouldn't work out. He then told Grace that she was hard-headed, that she was dumb when it came to her lovelife, and that she and her boyfriend don't get along because she gets jealous easily, while his boyfriend is very close to girls. His conclusion was that Grace and her boyfriend won't end up together.

Excuse me? The only input he got from Grace and anyone else in the cab were birthdays. While he made some great guesses on attitudes of people here and there, I think it's a bit too presumptive of him to just tell Grace out and out that she and her boyfriend won't work out and end up together, fortune teller or not.

I'm Grace's boyfriend, dammit. It doesn't matter to me how good a fortune teller you are, but leave Grace and I to ourselves to find out if we truly are meant to be together. Believing in what you have to say will only be a self-fulfilling prophecy, so I choose to reject it, regardless if you'd end up being right or not after all has been said and done.

I've pretty much given my own share of doomsaying when it comes to my relationships already. I don't need anyone else to add to that.

.:Wednesday, 19 January, 2005:.

And so I woke up at 2:45 in the morning, armed only with Grace's internet connection details on my computer. I went online (Free internet from 2:00-7:00.), opened E-Bay, and as expected, the auction was already at $325, $5 over my maximum bid. I then waited a few minutes before bidding all the way up to $356, as it turned out that whoever I was up against had a max bid of $350. I then spent five of the most exciting minutes of my life refreshing and refreshing the window in anticipation of any snipe bidders and getting my finger ready on a new max bid of $390.

Two minutes were left, and lo and behold, there was no movement. I waited a few seconds, then nudged my max bid to $370 so I wouldn't be just one bid away from losing. Ten seconds into it, I maxed out to $390, only to realize that I won the auction the moment I bid $356. That was the end of that story and boom, I just won myself a Beta Edition Ancestral Recall for a mere $356.

I then went to class, and it was our long exam for Metaphysics with Fr. Ferriols. Needless to say, I did pretty well this time, as I was using good analysis and very insightful analogies to get my point across. I think this really went well.

Boardwork was fun. I was there with Pam, who became my partner for that day, which meant I had to use a playlist instead of play the songs I liked for Waveback Wednesday. Despite that, it was fun. Pam and I ended up talking about that "Digital Pinay" competition on the air, and how the organizers seem to have forgotten that the I.T. industry houses brilliant minds and would see through any flimsy attempts to make this glorified beauty pageant come across as the search for a "true representative" of the "future leaders" of the industry, an industry that I certainly am no part of, which underscores how severely skewed this whole setup is, that it doesn't take a degree in Computer Science to realize there is something fundamentally wrong with building something based on a manipulation of the truth. More on this later.

When it was Jda's turn to board, I stayed around for about an hour as she tried to tell the listeners about how I shelled out $356 for a single card. It was also amusing when we just talked about movies, movies, and more movies off the air, and how she spoiled the ending of "Lovers In Paris" for me. That's an inane ending, but it doesn't really matter much, as the girl in "Everyone Has Secrets" is the girl in Channel 7's "Stairway To Heaven", and she is sooooooo hot. It was actually Grace who pointed out to me how this girl was just... wow.

Currently playtesting my Standstill Juggernaut deck. It's pretty fun, but I feel like using Stax more right now... heh.

.:Thursday, 20 January, 2005:.

Nothing much here, really. I had fun with classes, but the fun really started the moment classes ended. Me, TJ, Ryan, and a seminarian headed to Mang Jimmy's, and we practically gorged ourselves on tons of rice and seven different viands. At the same time, we were talking about all those things guys talk about, if you know what I mean, and they were dumbstruck at my mad 1337 stalking skillz. Needless to say, the conversations were extremely interesting. Due to their interest in seeing one of my students. Heh.

All in all, a fun night, really.

At least the recap is over and done with, though...