.:An Experiment Gone Right: The Axe Dark Temptation Night Mega-Post!:.
All photos are courtesy of
Juned
. Praise him!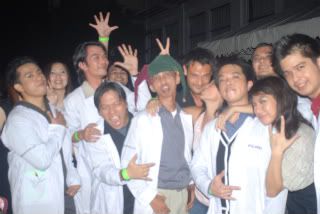 Firing on all cylinders!


This was definitely one of the most awesome events I've taken part in. Taking a cue from Keys To The Vip but with a unique Axe twist, nine bloggers were sent on a mission to prove that with their own sheer personality and some help from Axe Dark Temptation, they could be a hit in the club scene!

Three clubs became individual scenes for the "crime": Ascend in the Fort, Fiamma in Jupiter, and Alchemy in Tiendesitas.

Armed with nothing but our personalities, lab coats, and Axe Dark Temptation, this was definitely an experience that was unique, exciting, and definitely, in my case... challenging.

Axe Dark Temptation is the new fragrance from Axe: sweet, sinful decadence captured in a can. It's like delectable chocolate melting in her mouth, where "chocolate" is a nice euphemism for "you".

The Setup

I didn't know why, but for some reason, Jonas was bugging me about a "top secret blogger's event" that he wanted to pull off. I was admittedly intrigued, and I attended the meeting, where I met Marianne. Needless to say, I was a tad shell-shocked to find out what we were going to do... after all, it was going to require us to stick our necks out and risk rejection, and boy, am I bad at taking rejection.

This, I guess, explains why one of the people present at the meeting didn't end up at the event itself, although it would've been interesting to know how he would've fared that night.

Having said that, I figured it was going to be a good event, and there were enough incentives to go. Fortunately, My Beloved gave me her blessings and told me that she trusted I wouldn't do anything to upset her, so I was going to do this, but I was going to behave (Like I always do! I'm such an angel. ::whistles innocently::).

The Travel

I was caught by surprise by our travel arrangements because we came all the way from Savory along N. Domingo. En route to the first venue, Ascend, while riding with Juned and Jester, we encountered a traffic jam along Jupiter. Turns out, president Arroyo was in Fiamma with some congressmen, and it seemed like something big was up.

Anyways, it didn't take too long, and soon enough, we finally arrived at...

Ascend

Now, we were given a quick run-through on what to do, and that our initial encounter would be aided by spotters. Since we were late, everyone else was already on a roll.RG seemed to be raking in the numbers, and with only two approaches on the first venue, I knew I was way, way behind.

Soon enough, we got to the bus, and it was amusing to notice that there were two guys wearing funky hats, to go with the funky lab coats...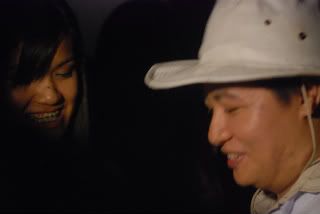 Master Diwa, the cowboy...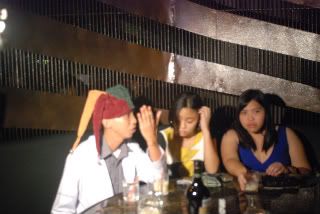 … and Jester, the... Jester.


We got into the bus, and the ladies from Axe were telling me the other bloggers have told them so much about me, which was fine and dandy, since I was well-stocked that night. I was armed to the teeth with forks, and I actually had to show to the bouncers what I could do with it because they were worried I'd use 'em as a weapon or something. Heh. I was quite a hit that night with the forks and the shackles. Those were pretty much the only routines I could use on short notice inside the club, since the music limited my abilities to patter.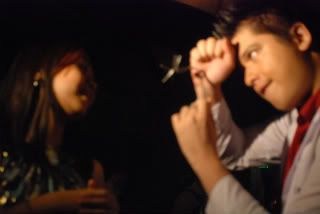 Bend! Bend! Bend!


Anyways, we were off after a bit, and it's interesting, because en route to Ascend, we already came from...

Fiamma

After spotting us only once, all the bloggers were left to their own devices, and this was where we had to work our individual charms to attempt to get as many contact details as possible. I was on quite a roll, even though I had a few people refusing to give out their numbers, and even met an old friend from debate, Ella.

Having said that, I got a few interesting tables here and there, where there was an orange-haired guy who was taunting us for "harassing" the patrons of Fiamma, and of course, a table of seven girls I did magic for, and one of them actually asked if I could "magic my way into her phone", after saying that I probably could bend forks because I'm "hot". Errmmm... thanks, I guess?

The funny thing was, I even asked a waitress for her contact info. When she wondered if it's okay for us to do that with employees of the club, I responded...

All they told us was to get the numbers of the hot girls we run into.

She signed in a heartbeat.

While I did have quite a lot of contact details from Fiamma, I think the genuine winner of the night was Fritz, since he got a girl who texted him this...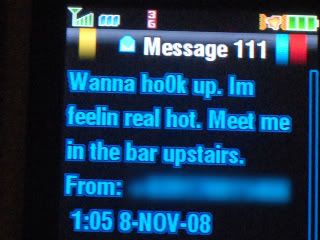 Quality! Not quantity!


Anyways, when we got into the bus, numbers-wise, I was still in second place, as RG was well in the lead. With one last bar to go, it was going to be my last opportunity to pull away, but I knew I'd have my work cut out for me the minute we got to...

Alchemy

It was a fun place, since the last time I was there, I met Rick Astley. I ended up running into a few people I knew, including the DJ I met before from Campus 99.5 who was doing the honors during David's House a while back. Forgot her name, actually. I met someone I last saw during the Triggerman's party as well.

Anyways, we were given interviews about our memorable moments of the night, and it was all good, since we were taking it a bit easy in Alchemy already... or so I thought. I noticed that the floor we were interviewed on was a floor none of the bloggers asked numbers in, so I worked my way around the area. I met some marketing people from Axe who were impressed by my demonstration of Psychokinesis, which led to...

NOT Straight Edge For A Night

Having been alcohol-free for years, and having never gotten drunk in my life, I was dodging alcoholic drinks offered by the people from Axe and Netbooster all night long. But then, while I was doing PK for a particular table, they offered me a shot of tequila, and it was definitely going to be rude if I refused them, so...



... I had that shot in record time.


Afterwards, I went back to good ol' Coke. One tequila wouldn't do a single thing to me, after all...

I was still lagging behind, but when I got to approach another waitress for her contact details, there came...

The Buzzer-Beater

I asked the waitress for her contact details, but it would appear that she misheard me. This was because she then took my notebook, and spotted every single girl on the third floor for me. In one fell swoop, she helped me get about twenty numbers, since she's an employee of the company, and nobody had problems giving their contact info to her. Only after all that did I finally ask her clearly enough for her to understand that all I wanted was to get *her* contact details.

From there, a slight shift of strategies on my part led to zero rejections from the ladies I approached. Having said that, at the end of the night was...

Victory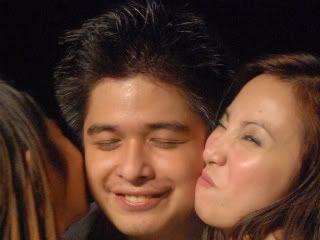 Ah, sweet success...


I don't know what else to say. It was an awesome night, and the fact that I managed to pull out a come-from-behind win on the back of shackles and broken forks and an overtly helpful waitress who misheard my request was just really quite an experience. Much love to Axe, to Netbooster, and to Jonas for making this event happen. It was also great meeting the other bloggers who also joined, such as Jayvee, Mark Cerbo, Joriben, and Jeffrey.

You know the best part of the night? It was when My Beloved texted me that she was proud of me. What more can I ask for, right? =)

Here's to a great event, and hopefully an even bigger follow-up! You never know, right? :P