.:The Laughs And Gasps Megapost!:.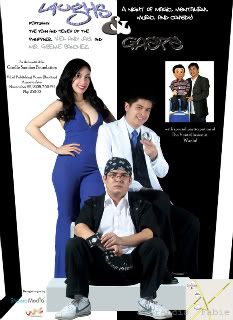 It's come and gone, but there's so much left to be said about last Saturday's event, touted as some to be the "Underground Magic/Comedy Event Of The Year". It was a huge success as a crowd of bloggers, magicians, otakus, and so forth came together in an event that was done for the benefit of the Giselle Sanchez Scholarship Foundation.
The Dream And The Challenge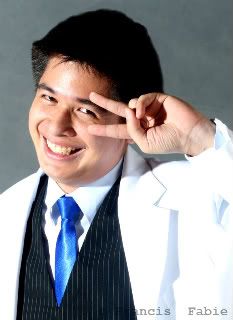 Kel + Kawaii = Disaster
For those who don't know, I was just a very mild magic hobbyist until I was introduced by one of my best friends, Estelle, to
Jay Mata
. Only then did I ever go professional with my craft, so needless to say, Jay was the guy who got me to turn pro in magic and mentalism.
When Jay and I first dreamt up "Laughs And Gasps", it was originally just going to be a free blogger event with myself, my partner Jay Mata, and of course, our good friend,
Stanley Chi
. It was going to be a simple showcase of talent from the three of us, and we didn't have any idea what was going to happen for us after that.
Then some friends started helping us out in their own way. Originally,
Juned
and
Jayvee
were going to organize the event on our behalf, but the heavy preparations for
The PBA
meant this was too much to ask of them, but Juned had a brilliant idea... why not make the event a fundraiser for a cause?
As Stanley went on to find much success with his comedy career, Kel and Jay continued to be individual successes in their magic and mentalism. Aside from a few appearances in conventions like Mangaholix, the Philippine ToyCon, and the Music And Arts Festival, as well as a huge product launch for Panasonic, for the most part, it was Kel
or
Jay, but hardly ever Kel
and
Jay.
The Mangaholix feature
was a step in the right direction, though.
That changed when we saw ourselves performing for the U.P. Circle Of Enterpreneurs last September 27, for their "Stritz" event (Sorry about not being able to write about that yet. I know, soooo belated.). A few days after the conclusion of the epic Ateneo-DLSU Finals in the UAAP, we ended up becoming not just a magic act, but a comedy act that night as well. We had a very receptive audience, perfect volunteers, and everything about the night just spelled success for us.
From that moment on, the Kel and Jay dynamic really came to the fore. It was no longer two magicians doing their own respective things, but a tandem effort that wouldn't be complete without the other. From the ribbing to the antics to the routines, we knew we had a winner in our hands.
It was at this point where we finally settled on upping the ante for our show, which we moved from August to September to November... while opportunities to collaborate with Stanley Chi will still be there in the future, we wanted to take a stab at something big, and we ended up getting in touch with both our special comedienne guest and the founder of the very charity we are devoting this show, to...
… Ms. Giselle Sanchez.
To say that we were overwhelmed to find out that she was interested in doing the show with us is an understatement. I can't thank
Dementia
enough for helping us find the means of reaching her, and slowly but surely, we made what initially came across as a pipe dream become a possibility...
Bricks And Mortar...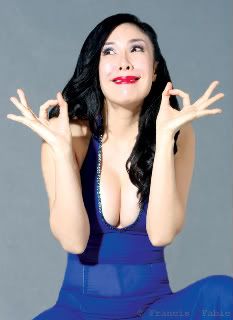 Zen, zen, zen...
I was a bit brazen, but I went ahead and sent a text message to Ms. Giselle, proposing to her an event for the benefit of her scholarship foundation, and asking her if she'd be interested in taking part in it. Truth be told, that was quite ballsy of me, since it's not like Giselle knew us at all. Kel and Jay were relative unknowns, who may be a bit known in the blogging and anime community, but next to anonymous in the mainstream.
Imagine my genuine surprise when she replied via SMS that she was interested. It didn't take long before we got the ball rolling, and while initially, she wanted something super big, like performing in Mandarin Oriental or something along those lines, we settled on Vibal Publishing House, since it's Jay's family's building, and we were producing on a shoestring budget. The idea was to do that as a trial run of sorts for myself and Jay alone, then with a producer backing us, have another show, this time with Giselle.
We were genuinely taken aback when Giselle Sanchez said she'd still want to perform, and she'd help us promote the show to the best of her abilities. It was definitely amazing, to say the least, as I started running around like a headless chicken, trying to go and get people willing to help make this event happen, on such short notice.
Shortly while brainstorming in mid-October, the name for the show hit me like a ton of bricks... it was just... perfect.
Thus we called our show, "Laughs And Gasps". We wanted people to laugh, to be shocked, but overall, to be entertained. We had what it takes, with Giselle Sanchez providing comedy that just works, and the Kel and Jay tandem adding in a mix of magic and mentalism, what could possibly go wrong, right?
Then came the setbacks... and the little miracles.
Hurdles And Blessings...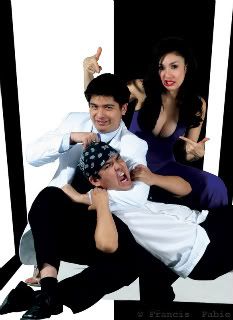 Group Hijinx!
From a financial standpoint, this event came at a huge loss to us. Break-even would've been great, but we expressly pledged that the proceeds of the show would go to the foundation, so we just took the hit. Having said that, we can't help but be grateful to
Geiser Maclang
for being one of our sponsors, as well as individuals such as
Janette Toral
and Jill, via chip-in.
There were unexpected expenses here and there, truth be told, and I guess the crash course on events management given to us by
Azrael
,
Markpoa
, and Juned definitely helped us get our act together despite setbacks that came along, including a certain surprise that cost us much more than anticipated, plus an incident where we misprioritized something that resulted in a financial loss that would've instead helped us break even at the end of the day.
Never again, I tells you.
Of course, I'd be remiss to not give much love to
Gail
and Marc and the rest of
Sheero Media
, who provided us with an
awesome website
. It's a work of art, and definitely something that would find itself the site of interesting developments for Kel and Jay...
Leave us not forget the video coverage and sound system provided for us by our client and good friend, Mr. Dexter Andrada and MITE Asia. That was three hours worth of video, all captured on tape, and you couldn't find a nicer guy to work with.
Our gratitude as well to
The Story Circle
for coming out full force to support myself and Jay, despite not being certified members. I know they've been our guinea pigs for our new routines for the past year, but they really showed a lot of appreciation for the event that night, even participating as dancers/volunteers that night, livening things up like anything.
Of course, this event had a lot of help from my brother, Francis, the self-proclaimed "Fabieoulous" member of our family of two at this point. He was our photographer for the promotions of the event, and I'm sure you've seen some of our really snazzy photos online at some point already.
Leave us not forget the massive contribution of
Coy
, whose video skillz made our finale just that much better... we'll get to that in a bit.
As Jay and I kept on updating a shortlist of routines we wanted to perform, crossing things out as we found something better to work with instead, we realized we had pretty much enough material for
four
rotating shows of this type, lasting about an hour and a half each...
It was at this point we both agreed we wanted to perform one set each that wouldn't necessarily count as magic. Jay's girlfriend was livid at the idea of him doing what he would end up doing. Very few people knew what I intended to do, and admittedly, seeing as I haven't done that in... oh, a year or so? Not to mention the fact that this was prolly going to be the only venue I know of that would allow us to pull this stuff off...
Whammies And Dummies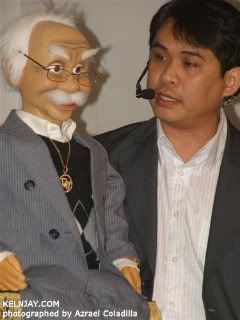 Old age? Eh bakit yung kaliwang tuhod ko, di magkasakit? Magkasintanda lang yang dalawang yan... (Courtesy of Azrael)
While I was promoting the show to friends, I surprisingly got an offer from
Wanlu
that he would perform for us for a steal, since it's for a charity event. We went and jumped at the chance right away. Kel and Jay, Giselle Sanchez, and
Wanlu
? We knew we had a winning formula for the night, as my experience with Wanlu's performances has always been one of sheer bliss. The man is a total entertainer, and a class act. Known as the Ventrillusionist, his combination of ventriloquism, magic, and humor really gives him quite the reputation in the magic industry.
It was especially heartwarming as well to hear kind words of encouragement from legends like Tito Bing Lim-It, my mentor (As well as Jay's.); sir
Ony Carcamo
(Wanlu's mentor.); sir Sonny Minoza (One of our personal heroes in mentalism in the Philippines.); sir David Elefant (Yet another one of our personal heroes in mentalism in the country.); Doc Ronnie (An institution, period.); Anthony Billan Co of Mindbender fame; and even Erik Mana. While Jay and I are not as active in the magic community, we were met with nothing but encouragement from those people who have gone through this long before we even dreamed it up.
Of course, we're left wondering
who the Hades this guy is
, and why he wanted to perform during the show, but I guess them's the breaks... heh.
Hype And Tripe
Y So Srs?
As the big night grew closer and closer, we had
a lot of hype about the event.
Considering how we had to do all of this on such short notice, I was mildly surprised that word got around fairly quickly. Things were going pretty well on the publicity front, albeit admittedly, we didn't really have enough time to plug the event, since we only had a little under two weeks to pull it off.
Nonetheless, people expressed interest in the event quite far and wide. You had people who even dedicated a 25-KM run all the way in Davao for the cause, among other people who were excited for the event, and the show itself was transformed into TSC's official weekly gathering, adding to the pressure on myself and Jay, since now, we'd be performing for actual magicians as well. A lot of people from the blogosphere were also quite optimistic about the event's chances, despite the admittedly short-notice and guerrilla blitz promotion we were forced to employ.
Both Ms. Giselle and Wanlu also promoted the show every chance they got, particularly when they got on television. I personally went through the radio stations I'm in good standing with, and personally promoted the event both on-air and off-air, resulting in two spots where I guested for the Brewrats... heh.
Of course, the biggest promotional pushes we got for the event would be the
Kel and Jay guesting on Unang Hirit
, as well as a press release on the Philippine Daily Inquirer about the event (Albeit a
mildly amusing but mostly annoying mix-up
resulted in people thinking that *I'm* Giselle Sanchez...).
This text message really stood out...
"Hello... gus2 ko makapag-aral, sana bkas ang puso na tulungan ako taga cotabato po ako."
Touching, I'm sure, but the fact he has a cellphone does make one think twice... but hey, it's such a refreshing change of pace from all the people who wanted to be "text pals" with Giselle Sanchez... heh.
Anyways, the promotions we made did get a few people interested about the event, and we're definitely banking on being able to make this show happen again in the future, or even on a regular basis, if we would be so blessed.
Having said that, it was time to get the show on the road.
Time And Tide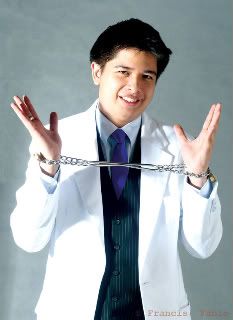 Or is it, time and tied?
I had a show before this actual one, which sort of served as my dry run for Laughs And Gasps. I ran into Honey, Kathy Chua's cousin, and a good friend of mine, and I convinced her, JC, and the celebrant's mom to actually go to the event for the night. It was a pretty fun gig, mind you. I had to perform magic for kids in such short quarters, and it was then that I realized that I really was lucky I wasn't an illusionist... that was one time where I couldn't imagine an illusionist fitting all his stuff in for a full-scale show.
Having said that, the kids loved the show, and using the Blindfolded Rubik's as my finale really works wonders with them, especially with the way I finish the routine.
We started a bit late, but it was all right. We almost got a full house, and we were pretty excited with all the preparations going in. Jay and I unofficially opened the show by handing out a bag that ended up in
Doc Tess's
hands, and then we went backstage.
The show was opened by Giselle's band, Souled Out, and they got the crowd going with a very lively opening set, before they introduced us and we finally came out to really start the show. I believe at this point, My Beloved left the show, since she couldn't really finish the whole thing. It was sweet of her to stay on for as long as she could, though, and for even driving me to the show itself.
We got on stage, and we introduced ourselves a bit, and reminisced about how a certain politician calls himself the "Barack Obama of the Philippines", and how this is tantamount to some arrogant magicians calling themselves "The Penn And Teller Of The Philippines". The nerve, right?!? Soon enough, we introduced Ms. B.B.B. (Beauty, Body, and Brains), and it was time for Ms. Giselle Sanchez to take the stage!
Jokes And Folks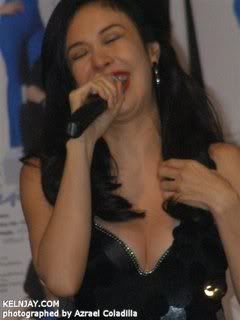 Beauty. Body. Brains. (Courtesy of Azrael)
The minute Giselle took to the stage, she really got the crowd on their feet. It was an amazing spectacle of music and comedy, not to mention a dance-off that was one for the ages, and a hypnosis gag involving Azrael.
To say people were really entertained would be an understatement. Even the front row, composed of a rather conservative crowd, couldn't suppress their chuckles at Giselle's humor, which wasn't exactly free of off-coloredness.
In fact, why don't we let Doc Tess's video do the talking on this one, as three bloggers, namely Azrael,
Manolo
, and
Mark Cerbo
, plus three TSC members, Nomer, Sam, and Cakit, just danced off for a chance to win a 20,000 gift certificate (valid for one day only) from Funeraria Paz!
After the dance-off, she got people rolling in the aisles with her fast-hitting comedy style. It was the classic comedy approach, really, quite a change of pace from the standard "observational comedy" stand-up style we've grown accustomed to the past few years. I especially loved the joke where she had to say "something patriotic" after every announcement when she was in NAIA.
In any case, after she emphasized that she was actually "only opening" for us (Biggest compliment of the night!), she introduced the "David Copperfield of the Philippines", yours truly...
Black And White
I scratched my head over the introduction, since even
I
wouldn't consider myself a "David Copperfield", far be it for people to believe I do stage illusions. In any case, Jay and I bantered a bit, poking fun at each other, before I went off to do my now-infamous Shackles and Rope combination...
It was pretty good, especially since Jay and I managed to improv some gags along the way, when I was trying to escape from the shackles, so it was all good. The Rope routine with JC was really fun to perform, because I really managed to get a good groove for it, but I was really just pacing myself so that when Jay gets to his bit, it really floors them...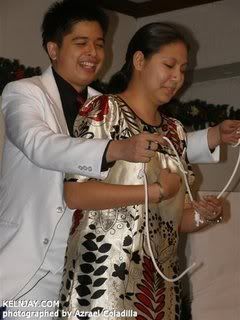 I suggest you not bend over like that... (Courtesy of Azrael)
When Jay got onstage, he really had a presence that made him seem like the authoritative one. He performed a color effect that really worked beautifully, as Ernest from TSC chose red, and while Jay's initial "prediction" was received with chuckles, when he finally revealed "red" behind the illustration board, he definitely stunned people.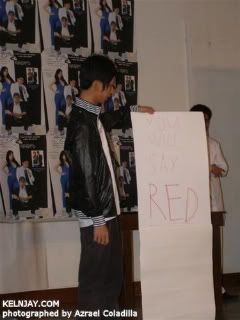 Had you going for a moment there...
He then followed it up with a lie detector game. He forgot a few bits, like actually offering money to motivate the people to lie better, and the girl in the group had a hard time following directions, but at the end of it all, he got things right down to pat, and nobody was the wiser how close he was to losing his money, had he gone in that direction. Heh. Sometimes, you just take a chance, and it pays off...
Pomp And Circumstance
It wasn't long before we got to the part where Wanlu just really blew the crowd away, not long after a very interesting introduction by Jay. Wanlu really knew how to work the audience, although he had no choice but to go wholesome when he saw there were a few kids watching, so we didn't really get to see his full-scale adult show.
Despite that, it was still a great bit from him, as he turned Bessie-Moo Estelle and Carl into human puppets for his ventriloquism finale, which was an excellent follow-up to Don Dominador. He then capped off his amazing segment with one of the best illusions I've ever seen, bar none.
Anyways, catch a snippet of his amazing ventriloquist act, courtesy of
Jonel
!
After this point, we had an intermission, and we prepared for the next half. The Laughs were done with... now came the Gasps!
Glass And Pizazz
"Kel, do you wanna go solo from now on? I can jump..." (Courtesy of Azrael)
When the people piled on in, they realized that a subtle change in the atmosphere meant we were serious about splitting the show into "Laughs" and "Gasps".
Jay was already wearing something... brighter, to say the least, but it actually was for a reason. While it appeared to most that both of us merely swapped color schemes, our wardrobe changes were actually meant to prepare us for the dangerous things we wanted to do for that night...
You see, Jay went on about how pain is a subjective thing, and that there is a way to suppress pain, to an extent. He then asked
Ada
to take his pulse, and from there, meditated. Ada was shocked to notice that Jay's pulse slowly faded away, until she couldn't even feel it anymore. Jay then shockingly stood up and proceeded to prepare himself to walk on the broken glass he laid out before beginning his meditation. People in the audience were free to verify that these were indeed broken shards of glass, and not merely sugar glass or some other prop.
What happened next? Well, you just have to see for yourself, courtesy of Doc Tess...
Yes, that was indeed Mike Abundo who stepped on Jay's back and face, and he was even more worried than I was, although he quipped to me while I was briefing me that if I "wanted to go solo", I can ask him to just step extra hard or something. Always a cad, that guy.
Nonetheless, it takes a man with a lot of guts to actually go and walk barefoot on broken glass, and Jay definitely got huge reactions from the people that night. What they didn't see though was that Jay started bleeding after the show. Talk about a delayed reaction, and the things we do for our craft...
Hellfire And Brimstone
You know the rules, and so do I. (Courtesy of Azrael)
I haven't done poi in a year or so, and it was only through
Peppy's
help that the poi was prepared properly before my performance. Unfortunately, I had lousy safeties, as Jay didn't really know the first thing about putting out a kerosene-soaked kevlar-fueled fire. Nonetheless, the crowd seemed to like the performance, even though admittedly I was treading carefully with the poi, since I was using Kathy's snakes, which I've
never
tried before. Unlike regular poi, the kevlar was longer than the chains, so it was easier to get torched by snakes. When the music began, the audience groaned because they realized that they just got Rickrolled.
Afterwards, I took a single monkey fist poi, and wanted to do a sorta drunken-master style of spinning, but the already-wet floor, caused both by frantic attempts to put out the fire of the snakes and wetting my hair to prevent it from catching fire, kinda limited my range of motion, albeit enabling me to do the moonwalk. I was a bit alarmed when I did my wraps and I hit my face with the neck wrap, as the poi went upwards instead of around my neck. Nobody noticed it, but I had a faceful of fire at one point, but I shrugged it off, and just tried to do the between-the-legs spin, but the wet floor beat me on my first try. I got right back up, found a dry enough spot, and did it on the second try...
I was still catching my breath when we had to move on to the finale...
Collection And Selection
We called Doc Tess on stage and handed out some magazines to three ladies: Ethel, Cakit's girlfriend, Louanne, a cosplay organizer, and Shari. While the people up front frowned over our choice of reading material, I proceeded to explain what our finale was about, and what we intended to do.
Soon enough, after a magazine was picked, we attempted to select a page to work with, but the first page we picked didn't exactly yield the expected results...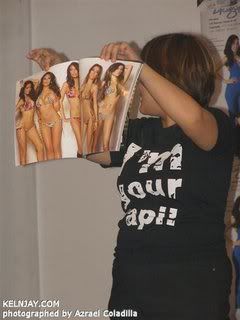 Whoops! We wanted actual words, not... what was I saying again? (Courtesy of Azrael)
The second attempt was better, though, and what I didn't know was that despite all our psychological bullying, there was still a slight chance that Doc Tess wasn't going to end up with what we wanted all along... she could've gone with "slated" or "complicated", but she instead ended up with "selection", which was precisely what we wanted.
Kel: So you chose a magazine, you chose a page, you had it torn into small pieces, and you chose one of those pieces, and then you chose a word. Was this fair?
Doc Tess: Yes.
Kel: No! It's not fair! It's inevitable!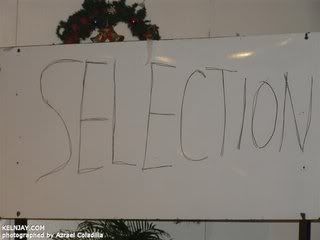 Was your word, "selection"? (Courtesy of Azrael)
Not only did we end up showing that we predicted the word, written behind a whiteboard in full view of the audience before the show even began, but we even proved that the magazine
really
contained the word!
Clearly predicted! (Courtesy of Azrael)
But Jay wasn't to be outdone, since he wanted to make it clear to everyone what was going on. He actually showed to everyone that throughout the night, he planted little messages here and there to get the point across, and Coy shot all these juicy bits and played them back for everyone to understand that practically every word we said, was carefully chosen to psychologically force someone to have no choice but to choose FHM, to choose page 103, to choose five pieces of paper to remove from the pile, and to choose the word "selection", from a staggering range of
thousands
of words across three magazines.
At this point, we ended the show on a high note.
Props And Slops
The feedback about the show has mostly been encouraging, and a sequel with a similar formula is nigh forthcoming in the middle of next year. Nonetheless, it was a great honor to perform for the people who were there that night, and I was especially grateful to Haido for the really awesome carrot cake they gave me and Jay that definitely lifted our spirits even further.
I can't thank enough the people who went last Saturday. They made the show a success, and they definitely helped out the beneficiaries of the foundation in their own way.
Obviously, there will always be room for improvement for a future show, but you can rest assured that we're working on it as we speak.
And now, a few words about the show, and well, Kel and Jay, in general...
"The Penn and Teller of the Philippines!"
- Sonny Minoza, leading Philippine mentalist
"Congratulations to Kel and Jay! More power to the both of you!"
- Bing Lim-It, our mentor, and shop owner, Abrakadabra, Shoppesville
"Kel and Jay are the most awesome performers ever! Especially Kel, he's just a phenomenon!"
- Francis Fabie, Kel's (very biased) brother
"Sino nga sila ulit?"
- Giselle Sanchez, singer, actress, and comedienne
"Ewan ko rin, Giselle."
- Wanlu, the Ventrillusionist
"Who the hell are these hacks calling themselves the 'Penn and Teller of the Philippines?!?'"

- Penn Jillette, one half of the Las Vegas-headliner duo Penn And Teller
"..........."

- Raymond Teller, the quiet half of the Las Vegas-headliner duo Penn And Teller
"Hey, guys, you're not going to use my name to promote my show, right? 'Cause seriously, if you do, I'll sue!"

- Unnamed "Celebrity", who shall remain unnamed
"(Kel, Jay, Giselle, and Wanlu) are geniuses! Mabuhay... this will make superb dinner theater!"

- MLQ 3, superstar blogger
"The latter part of the show gave more than gasps as the two performed surprising and logic-defying feats..."
- Jonel Uy, food and travel blogger
"Amazed, paralyzed, shocked, dazzled, overwhelmed. Memorable, it is!"
- Ada, gorgeous blogger
"We were at Laughs & Gasps the other night and saw Kel and Jay perform illusions and something more..."

- Juned Sonido, photoblogger extraordinaire
"Actually, tumaas ang respeto ko sa inyo!"

- Haidonotenshi, cosplay organizer and superwoman
"And for a tall guy, boy, he could dance! And with fire!"
- Doc Tess Termulo, the healthy health blogger
"To summarize the 3-hour event, only 5 words came to mind: I could not stop gasping."\

- Shari Cruz, super-cool blogger
"F#$#$#$# tumalon pa sya sa bubog!!!!"
- Azrael Coladilla, pop culture blogger (
More albums here...
)
"... I know no one else who would risk a mouthful of kerosene or a nail up the nostril for their life's passion."
- Estelle Osorio, close friend to both Kel and Jay
"A spectacular night with spectacular magic from the spectacular duo!"
- Dale, TSC member