.:My Subic Lighthouse Marina Experience...:.
Subic is a place I rarely go to, admittedly. The few times I've been there, though are nothing short of enjoyable, given how my agenda in Subic has normally either been a leadership seminar or shopping. Subic is great because it's a place where people are more disciplined than usual, the people are very Westernized, and thanks to the work put in by now-Senator Gordon, it's quite a departure from the tourist attractions you generally find from the rest of the Philippines. In that, Subic stands out.
Now, having said that, I must admit that despite having done a lot of shows in Manila over the past couple of years of my professional career as a magician and mentalist, I've only had a handful of provincial shows so far, and prior to this one, none of them was ever in Subic. Excited over the prospect of going to Subic after about five years since I've last been there, I gamely accepted the booking to perform on November 1 for the
Lighthouse Marina Resort
. Of course, all pictures I will be using were ganked from them. :)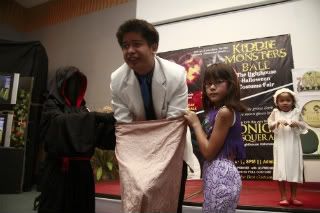 What's in this bag?


I got there after a short travel (Well, significantly shorter travel than my last show in La Union, I guess... heh.), and got ready. I was welcomed by the resident manager, Argee, and the OIC for marketing, Zed. They looked incredibly happy to see me, and they pointed me to their silverware and how "difficult" it would be for me to bend them with my mind.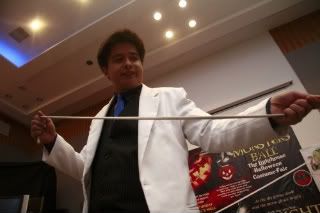 ZOMG! Did I just perform the infamous rope trick for a kids' show... again?!?

Anyways, I prepared myself to do my standard children's routines, but at the last minute, I decided to switch things up and actually do some magic I normally do for adults, and let the not-so-kiddie humor just fly over the kids' heads. It actually worked, and laughs and gasps were had by all the people in the room, be they kids or parents or even grandparents...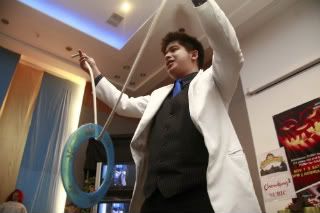 ... Except the rope trick. That had to be the kiddified version. I don't think I can get away with that this time. =P


I went two sets, and even hosted the Fruit Salad game, that had the kids really going. From my reputation-maker of metal bending, I also ended up performing one of my signature effects, the O.R.B.S. Rubik's Cube effect, and of course, I let four kids levitate another kid, using only themselves, and a chair. It was, as always, a pack small, play big effort for myself.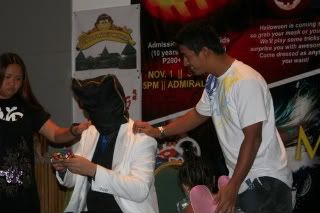 It's the blindfolded Rubik's Cube of doom!


The people at the Lighthouse were very hospitable, and their Lengua is to die for. I may not be a food blogger, but I know good food when I taste it. Considering how Subic isn't all that far from Manila, the Lighthouse Marina is a nice getaway spot from all the hurly-burly in the city when you just want to relax, unwind, and have the time of your life.

As the official Subic residence of the Ms. Earth 2008 candidates, Zed even wanted to invite me for the previous night to stay over at the hotel! Considering how it was a chance to meet the other candidates of Ms. Earth 2008, it was a very generous offer, but I had to decline since it was the Blogger's Halloween Party that night.

After the Monster's Ball, we were treated to a Halloween-themed buffet, as I talked shop with Zed and Argee. In the background was the Halloween episode of "Day Off", the show I used to work in, and the Lighthouse Marina was one of the sponsors for that night. At this point, they asked me to try and bend their silverware, and they were stunned to discover that yes, it can be done...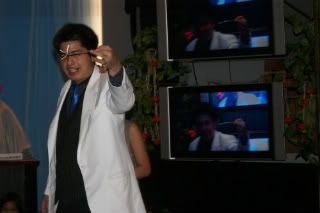 But of course!


It was definitely an awesome run, and I'd be more than happy to find myself back in Subic soon. Much thanks to the Subic Lighthouse Marina for their hospitality and the opportunity to work with them! If you ever find yourself wondering what to do for a quick getaway, treat yourself to Lighthouse Marina in Subic. You can be sure to have an amazing time, whether you're out for rest and relaxation, or shopping, or plain excitement.

That being said, if you want to see my next big show, why don't you check out the info we have so far about Laughs And Gasps? Hope to catch you there, because you know we're going to pull out all the stops on that night!