.:More To Come In The Near Future...:.
Right now, I just thought I'd show you guys a picture...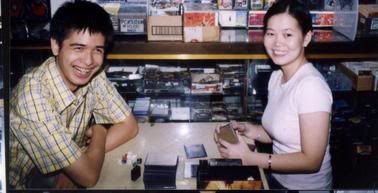 That was me at a tournament, with the store owner's cousin.

.:Wednesday Coinkidink:.

I met up with Pomelo yesterday, and lo and behold, Charo was on her way home while we were there, so we all ended up riding the MRT... heh. It was pretty funny, really, as Charo was talking about being a matchmaker, and I took that to mean "bugaw", and Gyn was violently reacting as her grandmother was a matchmaker...

Ah, well...

.:Overslept:.

I ended up oversleeping yesterday. I guess 36 hours of being awake can do that to you...