.:The Weirdness Of Last Thursday's Toyz:.
Last Thursday, there were only two standup comedians in Toyz Café: myself, and Ryan Sarita. Despite that, we had a very supportive audience who even called me back for an encore, as I ended up doing Shanghai Shackles with a few new punchlines thrown in for good measure.
All in all, it was quite a unique experience for me, and it definitely tested my mettle in unknown territory. I was very lucky the audience was supportive because if they weren't, I'm not quite sure how I would've done.
To the guys who watched us at Toyz last Thursday, I couldn't thank you enough.
.:Kimmy Dora Ruled:.
I won't do a film review for now, but I definitely loved "Kimmy Dora". It was a very hilarious and heartwarming romp, and it was great bonding with my AC5 batchmate Iza. She's been my bright ray of sunshine lately, and for that, I'm grateful. Last Saturday was definitely most enjoyable because it was spent in her company. :P
.:Cosplay Mania:.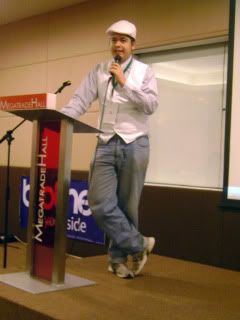 It's hard to believe, that I couldn't see... you were always right beside me... (Photo from OtaKing.


I wasn't keen on watching the whole cosplay event this time, so I really just waited for the Battle Of The Balls competition, where the Yuti Yatballs ended up facing off with the Stormballs. Without question, they really floored people with their very unique… performance.

In any case, I was one of three speakers for their panel discussion on panel in the morning, along with Rotch and Otaking. I didn't even know I was complimented/critiqued by a certain blogger who apparently hasn't been around the blogging community enough to know what I've done for it already, but hey, it's all harmless to me, as far as I'm concerned, especially since I realized I was given some props before I was torn down, which is something this blogger rarely does.

Anyways, my introduction was rather choppy, as I didn't really know what to cover, since I knew I was speaking to an audience who are cosplayers first, bloggers second. I took the time out to promote Nuffnang, as well as to thresh out some of the nuances of the Philippine blogging community. Considering how I've been a relatively known blogger, I actually do appreciate the fact that I can still stay somewhat anonymous, given how few people who don't know me personally or don't follow my blog know me beyond the only aspect they've ever met me in: so those who've seen me host, know me as that, those who've seen me do standup know me for that, and so on and so forth.

Anyways, Rotch was her usual fiery self, and Cliff was really speaking his mind to a captive audience, to say the least. By the time we got to the question and answer portion, things definitely took an interesting spin, as questions involving making money and going to blogger events cropped up, and apparently, the disdain for unscrupulous bloggers was made manifest, and stemmed right then and there. Hopefully, if any of the people who attended the panel discussion would start their blogs, they'd learn that nobody likes insensitive bastards who have massive entitlement complexes.

After everything was said and done, I did some shameless plugs of my upcoming October 23 show, and found out that the room had quite a number of Mike Unson fans.

Well, all's well that ends well, I suppose. I think it was a good workshop, and being asked by the succeeding workshop people about perhaps being a voice talent afterwards definitely made the whole thing even more fruitful than it already was.

I had an onstage near cross-playing moment of show during the event, though. The less said about that, the better.