.:Just When You Thought Your Funny Bones Were Safe, Kel And Jay Strike Again!:.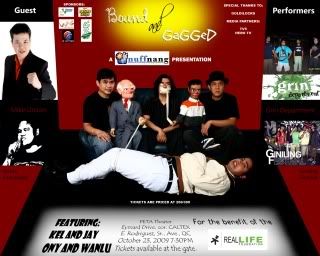 We're baaaaaaacccckkkk!!!


Last year's "Laughs And Gasps" was a rousing success: hailed as a big magic and comedy hit, a clamor has been raised for a sequel, and because you demanded it, the "Penn and Teller of the Philippines," Kel and Jay, are back, and they're pulling out all the stops!

This year, "Bound And Gagged", the sequel to last year's show, will be happening on Friday, October 23, 7:30 PM, in PETA Theater. The venue shouldn't be too hard to find, since it's on Eymard Drive, which intersects with E. Rodriguez Sr. Avenue in Quezon City.

From this show, you can expect nothing but top-notch magic and mentalism from your heroes of Mind and Magic, Kel and Jay, as well as an unprecedented showdown featuring two of the country's top ventriloquists, the Philippine's Premiere Ventriloquist, Ony Carcamo and the Ventrillusionist, Wanlu. Also slated to perform are two top comedians from the immensely popular Comedy Cartel, the winner of 2009's "Tawag Ng Tawa" Richie Fernandez, and one of the hosts of TV 5's "Front Act", the inimitable Mike Unson. Special musical guests include the Route 196 favorite Project 2, and the legendary 90's icon, Grin Department.

On October 23, you will be treated to a night that will excite, delight, and ignite your imaginations, and all for a worthy cause! "Bound And Gagged" will feature some amazing acts that combine Kel and Jay's unique style with special homages to some of their greatest influences, like Houdini, Copperfield, Osterlind, Maven, Brown, and of course, Penn and Teller.

For a sample of what Kel and Jay can do, take a gander at this guesting last November in "Unang Hirit"!


With Kel and Jay, Ony and Wanlu, Mike and Richie, Project 2 and Grin Department, how can you possibly go wrong? Don't miss out on an evening of wonders, bringing laughs and gasps to another level.

This is "Bound And Gagged". Tickets are available at 200 (balcony) and 300 (orchestra) each, available at the gate, and proceeds of the show will be given to the Real Life Foundation. For more inquiries and ticket reservations, call or text 09175126883.