.:The Name Of The Game:.
The past several days, I found myself in a whirlwind of performances, both of the magical and comedic persuasions. It was certainly a challenge for me, but I definitely made sure I was more than prepared to handle what came my way.
Ditzy on Friday
Ditzy Diner was quite enjoyable, as a tough crowd forced my hand, resulting in me dropping standup comedy in the middle of my set and moving straight to my magic, which proved to be a good move. I had the crowd firmly on my side by the end of my set, so I was happy about that.
Project 2!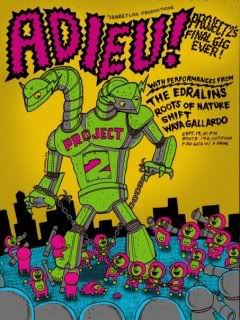 I can't believe they're disbanding! =(


It was the final gig ever for Project 2 last September 19, so needless to say, having them ask me to do a bit part where I would perform magic by producing a longganisa from thin air was a bittersweet experience.

You see, sometime last year, I saw Project 2 for the first time ever, performing during Route 196's "Rick Astley night". From then on, I was hooked, and I really wanted to hear and see these guys more. In fact, I wanted to see them perform so bad, I even asked them to guest for our show, Bound and Gagged, and they graciously agreed to do it.

Sadly, it wasn't in the cards, and they disbanded last week.

I'm gonna miss those guys. They had hilarious songs, and it was a great honor to have performed magic on their final gig.

Thanks to this event, I could barely remember what actually happened at Wordcamp, other than the fact that I'm doing much better using my Wordpress blog now thanks to that seminar.

Tough Crowd!

Sunday was a challenge for me, as Nomer and I, two mentalists, dived right into a swath of skeptics. If it weren't for the fact that I had the foresight of doing our legitimate levitation, things would've been a disaster for Nomer, since his mentalism was being scrutinized by everyone in the party, while my more laid-back comedy magic was just well-received all around.

Normally, I do mentalism myself, but after several days of performing, I wanted to ease back a bit and just have fun, and I think I made the right choice that day.

Afterwards, I ran into some TSC members in Trinoma who found out that I'm quite a gamer as well.

Fulfillment

One of the best shows of my career was a simple birthday celebration for a cause at the end of Ramadan.

I will not mince words: this was an exhilarating experience for me, to perform for the kids from the Cancer Warriors Foundation, and to amaze them and open their sense of wonder. What was supposed to be a quick show for only half an hour turned into a significantly longer run where I pulled out all the stops, making sure that the kids would be very happy to watch my show.

To the Cancer Warriors Foundation, rest assured that if you need someone who would be more than willing to entertain those kids, I'm just a message away. That's really all I could say at this point. I was overwhelmed then, and I'm still overwhelmed now. The smiles I managed to coax from the kids was something money cannot buy, and I've had very few audiences who were happier to see magic than these kids.

And you wonder why Jay and I insist on doing a fundraiser at least once a year?

Breaking In

The open mic people had their first ever run-in with Sidebar Café in El Pueblo, and it was a great experience.

While we were a bit apprehensive about the night as it was the first time standup comedy was going to be performed in the venue, we still gave it our best, and we had people rolling in the aisles for much of our performances. I was especially pleased with my set, as an uncooperative mic meant I had to make sure that my energy level made up for it, and it rubbed off on the audience, who actually appreciated my material.

It was also a night that Victor Anastacio pretty much killed the crowd with point-on jokes and commentary. He was definitely proving why he was the winner of the first ever Laffapalooza. Trian came back from the dead as well to deliver a lot of comedy goodness from his end, too.

All in all, it was quite a good experience, and we're hoping this means more chances for us to strut our stuff there in the future.

Well, that's pretty much how my last few days went, really. We didn't have standup in Toyz last night, but I'm sure we'll be doing Ditzy again in a few hours. Ciao!