.:Crazy, Crazy, Crazy...:.
I experimented with some new jokes and setups for my standup last Thursday night, and I must say I strictly prefer my old premise for N.U. The new one just takes too much time, and uses too few punchlines.
There's still room for loads of improvement, and really, that's what open mics should be about. I'm really happy the Pokemon jokes are getting a lot of mileage, though. It's something I didn't quite expect.
.:Your Moment Of Zen...:.
I bring you.... Nomnom!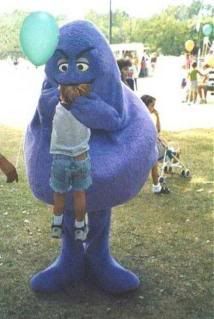 What is Grimace doing to that kid?!?


.:Enjoy The Long Weekend!:.

It's a very brief post, I know, but given how hectic this week has been, I guess it makes sense. Nonetheless, I think it's time we stopped beating around the bush and got to the news...

.:Project 2 Is Disbanding!:.

One of my favorite indie bands, Project 2, is unfortunately disbanding. ::sobs::

I know most of you probably realize they were supposedly booked to perform in Bound And Gagged, so you just know how disappointed I was to find out that due to unforeseen circumstances, the band will be parting ways,and their last gig will be in Route 196 this Saturday night. They will be missed.

.:Having Said That...:.

... JP from Project 2 has kindly allowed me to get in touch with an awesome band to take their place.

For those who don't know, we will be replacing Project 2 with Giniling Festival for the October 23 show. I'm definitely excited about this prospect, as this turn of events was unexpected but certainly a good thing. Here's to a successful "Bound And Gagged"!