.:A Return To Form (I Hope):.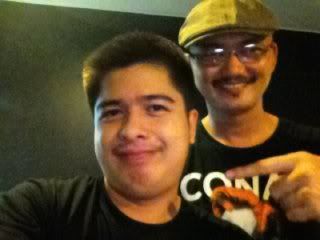 I look up to this guy. Literally.
So I have decided for the past few weeks to not do magic during open mic nights in order to force myself to get better at my standup comedy. It's a bit of tough love, but hey, I think it's worked out well.

Last night, in Tomato Kick, it was GB Labrador's post-birthday celebration, and I was the opening set. I was pretty proud of how I did my set that night as I took the audience into a journey inside my psyche, and hearing some very meaningful feedback from some of the comics that night really made me realize that it was a good idea to really let magic take a backseat to standup comedy. I kinda stagnated for a long spell because I didn't hit the stage often enough, and when I did, I still did magic, so the change of pace has proven beneficial, especially now that I'm starting to find my voice in comedy.

I was genuinely surprised that the whole "Too Nice" bit went over well with the audience last night, and considering I opened that night, I was really happy I didn't bomb, but I sure didn't envy the birthday boy as the other comics one by one started using his material before he was going up, forcing him to reach deep and find the rest of his material the other comics didn't touch. It was a pretty funny way to roast GB, but he managed to turn it around by still having an excellent set despite the fact, which was testament to how much he stepped his game up.

I have so many friends in the comedy world, and I must say that GB is certainly one of the people I admire the most for his sheer work ethic and his passion for the art form. On his post-birthday show, I couldn't have been prouder of how skilled he was to pull off a great set despite the other comics doing a "best of GB" bit during their own sets, forcing him to not use those bits during his own set.

Considering how he was one of the people who suggested relying solely on my standup for open mics, it was great to know that he practices what he preaches, and the parallelisms were interesting, to say the least.

Thanks, GB, and congratulations! It was a killer night of comedy for Tomato Kick, and it was a great way to celebrate your birthday!