.:It's Only Words, And Words Are All I Have To Take Your Heart Away...:.
Before I get into this, Ruffy Biazon, a man I truly admire and respect, pointed out the inconsistency of people who defended
Mideo Cruz
for blaspheming Jesus Christ and then proceeded to assail James Soriano for "blaspheming" the Filipino language, as it were, during
Buwan ng Wika
itself.
Allow me to demonstrate my consistency on these matters.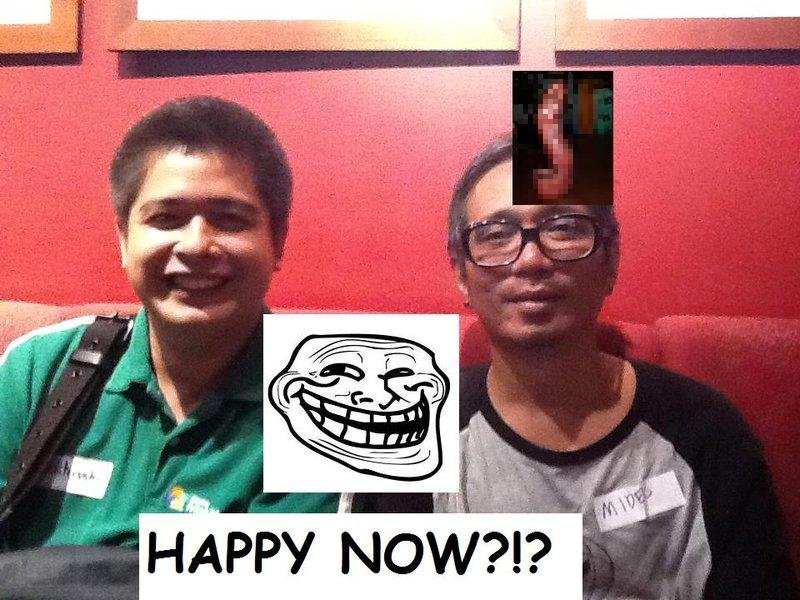 Okay. That's settled.
That being said, in an article yesterday, obvious Atenean James Soriano
discussed Filipino as a language in a less than flattering light.
This article has been taken down by Manila Bulletin already, but I found a cache of the article thanks to some of my friends.Allow me to preface this by pointing out I am writing in English right now, so no, I am not going to get into a blind Patriotic Filipino® rage and make a sacred cow of our language. That completely defeats the purpose of opening this discussion, and reeks of hypocrisy in light of the impassioned defense against Mideo's right to blaspheme. Our language is
not
immune to criticism, but then, neither is Mr. Soriano's argument. This is also why I was disappointed that the article was taken down. It has engendered discussion on the role of language in one's life, and I personally believe this is a good thing that shouldn't have been stifled.
I believe that the sticking point to most people who are indignant over the article was the notion that "Filipino is not the language of the learned." It reeks of intellectual elitism and privilege, which, to Mr. Soriano's credit, he never once denied.
It's just that... nobody really understood what he was trying to get across, and the onus was on him to have chosen his words carefully and concisely to do so, since it was
his
article, and name-dropping Fr. Bulatao just because he can just feels like such a predictable thing a typical pretentious pseudo-intellectual Arrnean would do.
Mr. James Soriano, the language of the learned isn't English, Filipino, Cebuano, French, Spanish, Latin, whale, Klingon, or anything else of the sort. The language of the learned is well thought out. The language of the learned is characterized by one's deliberate choice of words, regardless if those words are uttered in English,Filipino, Cebuano, French, Spanish, Latin, whale, Klingon, or anything else of the sort.
I bear no ill will towards you, not just because I believe you are entitled to your opinion, but simply because your upbringing likewise prevents you from truly expressing yourself in Filipino in a manner that you could deem as "educated." Which is why ultimately, your
via negativa
thesis statement should have been "Filipino is not the language of
my
education."
There will be others who will learn and can only learn primarily through Filipino. Or English. Or any other language. The choice of the language itself does not dictate whether or not it is learned or civilized. It is the exercise of choosing the words carefully and then expressing them clearly and concisely that dictates how learned one actually is.
Thus, to dissociate myself from people who disagree with Mr. Soriano solely on the basis of him dissing our national language instead of disagreeing with him on the universality of his statements, I would like to point out that saying "P****g i*a mo, James Soriano, bakla ka, mamatay ka na!" is
no more or less learned
than saying "F**k you, James Soriano, you're a f****t, go die in a fire."
In both cases, you are being a boor who lets your feelings get the better of you instead of responding to the issue the way a learned person actually would.
And really now, being learned has little to do with where you graduated from or how much money you make. It has much more to do with your own temperament and the way you choose to respond to situations. Heaven knows a lifestyle of privilege didn't give Mr. Soriano the perspective to understand how the learned could very well express themselves in Filipino if they choose to do so.
Language will always have its limitations with the built-in capacity for growth. We realize that every time we add a new word to the dictionary the way "Tweeting" and "bromance" have been added to
the Merriam-Webster dictionary this year.
As such, no single language would have a monopoly on learnedness. We heard this before during the middle ages when they believed only Latin speakers were educated. We really shouldn't be making the same mistake again.
I do not resent you one bit, Mr. James Soriano, nor do I pity you. I believe you are learned enough to realize that your life experience and your privilege is not enough perspective for you to cast your net so wide in your attempt to speak for everyone.
Sa katapusan ng araw, kahit ano pa ang sabihin natin, may karapatan si Ginoong Soriano na ihayag ang kanyang saloobin. Marahil, nakakalungkot para sa ibang mga tao na hindi lubusan ang pag-yakap ni James sa kanyang pambansang wika, subalit hindi rin ba tayo nasasakdal sa tuwing pinagtatawanan natin ang Cebuano dahil sa tingin natin, kapag probinsyano magsalita ang isang tao, hindi siya edukado? Pare-pareho tayong nagkakamali sa pag-iisip ng ganyan, at ang kahalagahan ng inilathala ni James ay ang pagkakataong ginagamit natin ngayon upang talakayin ang mga punto at kontra-punto ng kanyang isinulat.
Ito ang pagkakataon na imulat ang ating isipan at alalahanin kung ano ang tunay na marka ng wika at pananalita ng edukado.
Sa huli, kahit Ingles, Tagalog, o Swardspeak pa, ang sariling wika ang mahalaga, kahit na ang wikang itinuturing mong "sarili" ay hindi ang pambansang wika. Ika nga ni Gat Jose Rizal, na isinalin sa Swardspeak...
"Ang wiz mag-Mahalia Fuentes sa sariling wiketch ay mas Smellanie Marquez pa sa echoserang frogette. Trulalu, walang halong eklavu."
Mabuhay ang wika ng tunay na edukado.
Long live the language of the truly educated.
ADDENDUM: In light of Mr. Soriano's sister's attempt to play the satire card in Tumblr, I would like to point out that even if someone writes poorly to emphasize an ironic point about one's mastery of the language, it is still agonizing to read, precisely because it is poorly written.