.:Sometimes, You See Hope For This Nation...:.
While a lot of things certainly annoy the Hades out of me when it comes to this government, it's good to know that for every
stupid Florence Treaty violation,
we have some genuinely good efforts coming up from other sectors of the government.
Much has been said about the deficiencies of P Noy's recent SONA, but a glaring albeit non-controversial omission from his speech seems to be the fact that he never made mention of a key idea he brought up in last year's SONA: the public-private partnership. It sounded like a good, albeit expensive idea. Definitely struck me as an infrastructure-centric notion, in all honesty.
Thankfully, my rather myopic point of view was not shared by TV 5 or MMDA, and with their simple but important idea, they have helped at least 6,000 people in one fell swoop even
before
their project was officially launched:
The Metro Manila Traffic Navigator.


Via Philippine Beat

I wish I had a funny caption here, but I guess not every blogpost here has to be a Cracked.com ripoff...


The launch was as simple and as straightforward as can be, to be honest: hey, guys! Meet the people from TV 5, meet the people from the MMDA, ask them about this awesome idea, and give them ideas how they could improve it even more! I mean, really. There's no way anyone can mess that up, and the event certainly didn't.

So how does this newfangled internets thing work, you ask? Quite simple, actually. Observe: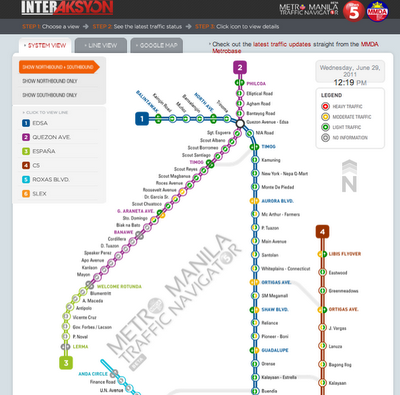 via Philippine Beat

Pictured: Utter simplicity. No, really.


What you are looking at is the default view for the system: it allows you to see the main thoroughfares in Metro Manila as though they were MRT/LRT lines, and each particular landmark of note is divided into northbound and southbound, and each subdivision is color-coded as green (light), yellow-orange (moderate), and red (heavy). Thus, if, for example, Lady Gaga were performing in Araneta Coliseum, you can expect that the Cubao node of the line and its nearby areas, both northbound and southbound, will be predominantly red.

If, on the other hand, 1:43 were performing in Trinoma, then you can expect that the Trinoma node and those nearby would be green all the way. Like anyone would bother going to Trinoma to catch those guys (Unless if your name is Jepoy from GameOps...).

What this does is it puts everything you need to know in one sweet package, and is fully accessible from the internet whether on your computer or on your smartphone. You would know, due to regular updates made during peak hours every two to five minutes, which routes would be best to take, and which ones to avoid altogether, especially if you have the option of choosing between EDSA or C-5. Keeping this in mind, it should be no surprise at all that this handy navigator is worth its weight in gold, no questions asked. It's updated almost real-time, and at worst, at 15-minute intervals, which is still very invaluable information, any which way you look at it.

Of course, this is no excuse for people to use their phones while driving, but this is nifty and would help ease traffic somewhat. Hey, 6,000 smarter navigators in the metro can't be a bad thing. That's for sure.

It can only be hoped that as this navigator catches on and improves further, there'll be less of this: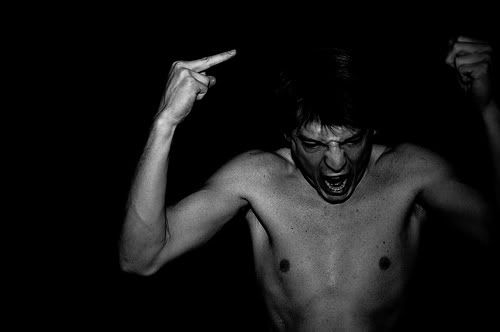 Maybe I'm wrong, but he doesn't seem to be in a good mood.


In the meantime, thank you, MMDA and TV 5! This navigator really helps, and knowing that this lines up just right with your free iPad App, it's good to know you're really reaching out to people in ways people have overlooked for so long! I'm sure you guys get a lot of criticism time and again, but props where props are due: I'm pretty sure unlike certain unscrupulous MMDA officials, this Navigator is not going to be asking us for bribes anytime soon...