.:Back On The POC!:.
So, after a brief interval, I'm back with a couple of new articles on
The POC.
First, I wished
"Get Well Soon!"
to GMA.
Then, I played an old childhood game:
One Of These Is Not Like The Other.
I'm sure Jacque Bermejo, Christopher Lao, and Migz Zubiri would all be proud.
As I go along and do more and more of this stuff, I realize that I want to be known as a multi-faceted person, given how I'm in radio, magic, comedy, mentalism, political commentary, philosophy, and showbiz commentary, among other things. It's something I've been cultivating for years because being one-dimensional is just too bland for my tastes.
.:Speaking Of Comedy...:.
I won't be there tonight most likely, but the Comedy Cartel will be having its regular open mic comedy show in Tomato Kick Katipunan at 10PM. It's a free show, so there's no reason to miss it if you're in the area.
This coming Saturday, Mike Unson and yours truly will be hitting the stage of Capone's in Makati's A Venue at 10PM to deliver nothing but the best comedy you can shake a stick at. And yup, it's free, too!
And of course, on August 24,
Rex freaking Navarette
will be in town, and you can catch his show in Resorts World! Mike Unson will also be opening for the man.
August 26, you'll see us again at Capone's!
Then on August 27, you have this...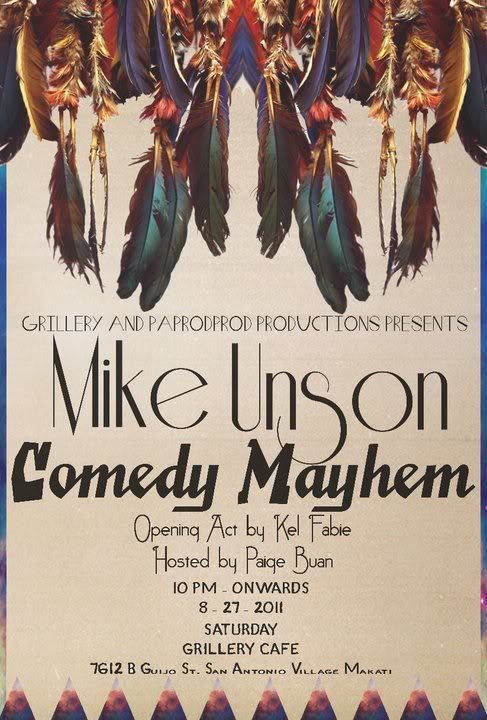 A blast, no doubt.
This will be my first time performing in Grillery, so I'm pretty excited about it. Things are cooking, and it's going to be one hellaciously awesome ride.