.:The I-Blog 5 Roundup:.
As always, I-Blog was a great day filled with opportunities for learning and growth. With a lot of new bloggers making their presence felt for the first time in I-Blog 5, it was a perfect opportunity to introduce to them to the great things blogging has to offer right now.
As one of the few people who has attended all five I-Blogs, I saw the steady evolution of the Philippine Blogosphere, for better and for worse. Friendships were built, as were rivalries, new bloggers arose, older bloggers faded into the background, but overall, the trend of Philippine blogging has been one of growth.
There was a time that blogging was nigh-exclusively the online equivalent of opening your diary to the world, but now, that is merely one slice of a gigantic pie that cuts across various factors, dynamics, and considerations that have become the norm in the blogosphere, from travel bloggers to photo bloggers to video bloggers to food bloggers to tech bloggers to everything in between. I-Blog 5 addresses these trends, sometimes even precedes these trends, and tries to give some semblance of order to the wild, wild west we have come to know as the blogosphere.
For better or for worse, blogging is here to stay. As legal issues have clearly begun to be pushed to the forefront with the whole Pangandaman vs. Dela Paz issue, we are slowly discovering that indeed, there is a need to be responsible for what we blog about. It's no longer
just
a blog. We're no longer
just
bloggers. This is not to say we're superior, but we are achieving the par, and that means we have to be willing to stand up for the things we write on our blogs. You never know if your latest senseless rant is actually grounds for libel, after all... well, actually, you should know, since it's fairly obvious when a line is crossed.
Nonetheless, with this in mind, I must say that a fun topic like video blogging as covered by
Azrael
and
Kring
was nothing short of teh awesome. The humorous approach to the topic was definitely a highlight, and I commend them for the stellar effort, and Kring's witty commentary during her presentation.
Special mention also has to go to
Juned
and
Benj
, aka Yin and Yang, who talked about blogging ethics, including a call to responsibility and a discussion on taboos, and the kind of censure that arises from a community with no real punitive measures for the breaking of taboos.
Of course, I'd be remiss not to mention the Nuffnang segment of I-Blog (In the interest of disclosure, I've been working for Nuffnang since April 15.), as my boss, Mr. Eric Ramirez, gave a talk about how Nuffnang Philippines has been doing in eight months of existence here in the Philippines.
Indeed, I-Blog 5 was quite an experience, and with a fun after-party involving some dancing from Kring and
Poyt
, as well as some crazy antics and laughs to be had by everyone, as well as the after-after party I had involving a few other bloggers where I had quite a great time swapping stories and even sharing some lateral thinking puzzles with them.
Overall, I-Blog 5 was a great opportunity to showcase how far the blogosphere has gone in the Philippines. Needless to say, we can only hope for even more interesting developments come I-Blog 6.
My hands disappear in sheer approval! (Photo courtesy of Jen Adams...)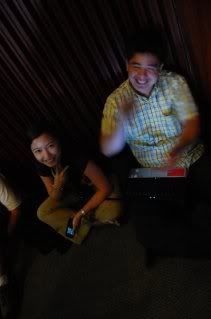 Jazz hands!