.:Before Anything...:.I'm guesting on Ruffa And Ai this Monday, 11 May, 2009, from 10:15-11:15 AM, Channel 2, LIVE!
Yes. I'm guesting
again
. This time, I'll be doing mentalism instead of comedy magic. =)
.:TV Guesting Win!:.
My TV guesting on "Ruffa and Ai" went well even if it unfortunately wasn't with my partner in crime, Jay Mata. I was on a total of three times, and I was definitely happy about the results. I performed in a rather rushed manner, but I still got to entertain the people in the audience, although the fact that they gave out my cellphone number during the show sorta made for very interesting times...
The entire episode is here, actually...
Anyways, I hope you guys liked it. It was a pretty great guesting, and the hosts, Ruffa and Ai-Ai, were very nice people. =)
.:The Cellphone Is A Crazy Thing...:.
So last year, I've been getting crazy text messages from random people who thought my cellphone was Giselle Sanchez's phone, which resulted in a lot of hilarious moments where people declared their love and refused to believe I wasn't Giselle Sanchez.
Anyways, it got worse after I guested on "Ruffa and Ai" last Monday, since my number was on TV, and the minute I stepped out of the studio (There was no signal there.), I was blasted with 50 messages, one after the other, and it was just unbelievable. My phone kept on getting
By my count, I had: one indecent proposal, one person asking me for load, one person inviting me to a party in Tondo, seventy people who wanted to learn my "secret for magic", and two hundred sixty thousand people who wanted to be my textmate. Compare that to the five people who inquired about my services, and I begin to realize that my internet marketing has been much better than my mainstream media forays, promotion-wise.
However, I must say that this text message really just completely took the cake...
"Sir, napanood ko kayo sa Ruffa & Ai sa TV. U r a good magician. May hingi ako magic word pangkontra sa masama spiritu. Kabila bahay namin mahilig kulam kami sa kaluluwa. I wish u will help me."
Let me make a few things clear...
1. I don't do textmates. My cell number is a business number. Stop texting me in the middle of the night asking me if I ate lunch. Texting costs money, and I have better things to spend my money on than fielding every single "h3llur PoWh" message out there.
2. I am straight edge. Yes, that includes casual sex. So don't even think about it.
3. I am a snob. I don't like talking to complete strangers unless I have to. This especially means that I hate forwarded text messages from people I don't even know. It's bad enough from people I actually know.
4. I am a magician-for-hire. That means I don't give away magic secrets.
5. I am
absolutely not an exorcist!
Anyways, here's hoping that I don't get these crazy messages again next time I go on TV, but for now, I'm just mildly confused and amused at the deluge of messages I've been receiving.
.:Blogging More Some Other Day...:.
I'd have blogged more today, but my arm hurts like crazy. =(
When I donated blood for Cakit's dad last week, I think the nurse didn't do too well hooking me up, so the result?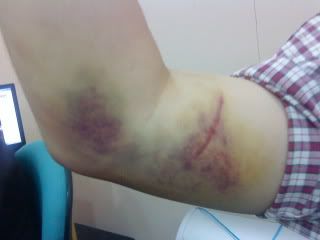 Ouch!!!