.:New Article Up:.
As an April Fool's thing,
here's my article about Herbert Bautista
on the POC. Hope you like it.
.:Monday's Double-Header:.
On Monday, April 5, I will be guesting a second time on "The Sweet Life" on QTV11, around 5-6PM.
Then, later on that evening, I will be doing standup comedy as I open for Mike Unson and the rest of the Comedy Cartel in Spicy Fingers, Greenbelt 2, at around 8PM.
Hope to catch you guys there!
.:Upcoming Performances:.
I'll be doing another Easter show in Hotel Intercon tomorrow. Seems to be a yearly tradition at this point, actually.
On April 16, I'll be performing with the great Ony Carcamo and comedian extraordinaire Stanley Chi in Taumbayan.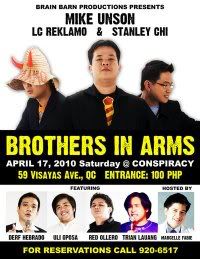 On April 17, I'll be hosting for Mike Unson's awesome comedy show in the Conspiracy bar,an honor that I never expected to be accorded.

Aside from those, I have my other private shows and the like, and of course, the regular guestings I do for the Disenchanted Kingdom on 99.5 RT, usually every Mondays and Fridays, 6-9 AM.