.:Awesome Philippines!:.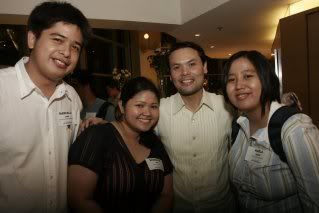 Yeba!


Last Wednesday, Awesome Philippines, the latest tourism campaign collaboration by Department of Tourism and MTV, was launched in M Cafe at Greenbelt 4. This collaborative effort attempts to bring the wonders of the Philippines to the rest of the Asia-Pacific region, and it's nothing short of awesome, hence the name.

We met Tourism Secretary Ace Durano yet again, and of course, the great people from the company, including Yvonne from MTV Asia, among other awesome people.

Can we expect good things coming from the Department Of Tourism this year? Oh, indeed. You can bet on it.

I don't really need to talk about the event itself much, because I'd rather talk about the campaign itself. As a guy who has been in this country all his life, I can say without batting an eyelash that there is no reason to leave out the Philippines from your choice of destinations when you go abroad. Whether you want to be an eco-tourist and find the amazing sights and sounds of the country, or if you want an experience of the gritty but endearing big city in Manila, or the quiet but likewise progressive cities in Davao or Cebu, the Philippines is a country worth visiting.

Terrorism? Pshaw. Unless you plan to go to Basilan, I frankly don't see why you should worry about that. The Philippine is a country generally very welcoming of people from all walks of life who decide to come over here. You don't have to worry that you'd be treated adversely, since people in general won't take advantage of naivete here, or will ensure that you won't be taken advantage of, once you get to know some people here. It's no different from any other country in that respect.

The Philippines has over 7,100 islands, and is an archipelago of wonder. Visit The Awesome Philippines Homepage to find out more.