.:Who Wants To Be A Millionaire Is Coming Back...:.
Oh, yeah, baby
! Vic Sotto is hosting WW2BAM for Channel 5, and that is nothing short of awesome. I personally loved Who Wants To Be A Millionaire during its first Philippine incarnation with Christopher De Leon in Channel 13, and I can't help but be stoked about it all over again, what with the Slumdog Millionaire hoopla that is closely following behind it.
I am eagerly anticipating this show, and would definitely want to see how Vic Sotto stacks up to Christopher De Leon as a host for this franchise. I loved the show then, and I'm probably gonna love the show now, since I'm a big fan of TVJ.
.:But Wait? What About... The Weakest Link?:.
If you recall
my old college creative shot
, I was wearing a Weakest Link shirt there, and I was pretty proud of it. During the heyday of the show, we all loved how Edu Manzano's witty putdowns would demean the competitors, and how he'd turn to the side when he said, "you are the weakest link – goodbye!" If WW2BAM made a comeback, shouldn't The Weakest Link be following closely behind?
Edu Manzano was an amazing host, but I think that his schtick has run its course. We also know that the videoke master style employed by Allan K to put down contestants never went over too well with the audiences, either, so we now need a new host who can turn the show around with their remarkably different take on manning the helm for a new version of the Weakest Link.
So for your perusal, I present to you to the top 3 people I'd want to have as hosts for a new version of The Weakest Link...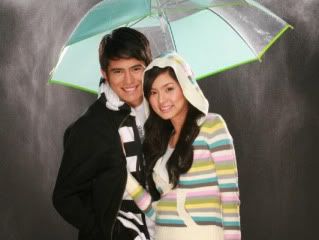 3. Kim Chiu and Gerald Anderson: Can you imagine these two being deliberately mean to players? No, I can't, either. That's why it would be awesome to have both of them there. In the middle of their tweetums-ness and the challenges they will face in trying to read the questions out correctly (Hey, it could be worse! What if it were Marian Rivera, right?), we will probably be treated to some classic putdown gems like...

- "Sino ang kulang ng Enervon kaninang umaga?"

- "Sino sa inyo ang pinangmumumog ang Pure and Fresh Feminine Wash?"

- "Sino ang hindi nagka-happy period?"

- And of course, "Sino ang naghanap ng Big Mac sa Jollibee?"

It's corporate tie-up Nirvana! Not only will Kimerald be challenged immensely in being mean as they declare who the weakest link of each round would be, they will also shamelessly shill like crazy during the show, to the delight of the sponsors. It's a win-win situation for everyone (Except perhaps for the audience and the contestants.)! Kim Chiu and Gerald Anderson as your hosts for The Weakest Link will drive the ratings through the roof, what with the inexplicable following their loveteam has, when it should be the Jakerald tandem we should be looking out for.





2. Mon Tulfo: You want someone even meaner than Edu Manzano and Anne Robinson, the classic host from the British version of the show? Well, Mon Tulfo is your man! With his vocabulary of four-letter words, we'd all have a field day appreciating his witty putdowns at the expense of the contestants, such as...

- "Sino ang bobo?"

- "Sino ang tanga?"

- "Sino ang pulis?"

- And of course, "You are the weakest link - GAGO!"

Mon Tulfo will bring a refreshing kind of wit and brutality to the show. His very candid, honest, and decidedly un-sugarcoated comments will be nothing short of marvellous. To be honest, it's very hard to think of any particular person in the Philippines, living or dead, who can beat Mon Tulfo at this kind of eloquence and refinement, except perhaps one person, who is undeniably the best possible host the new version of The Weakest Link could ever hope for...




1. Miriam Defensor-Santiago: Was there any doubt about this? The good Senator has all the tools she needs to not only know the answers to any potential question the writers of the show can come up with (Thus eliminating the need for an answer key, and saving on space, thus requiring less paper for question sheets.), she can probably even come up with her own questions (Thus eliminating the need for writers completely.), and nobody would ever get a question right (Thus saving on prize money.). Miriam is a production outfit's dream: she will save them money via removing the need for scripts, writers, and prizes. Furthermore, she will draw the ratings in because nobody would ever want to miss Senator Defensor-Santiago's peerless arsenal of putdowns. The kind of putdowns Miriam could dish out can only be described in the vernacular: durog ang pagkatao ng contestant!

-"Which one of you did not graduate from an Ivy League University, and is thus, forever fated to live in a life of servitude to some foreign master in some transnational company who would never even remember their name the minute they die?"

-"Which one of you does not possess an IQ of 200, and thus cannot process even the simplest of questions on quantum physics with so much as a pretense of competence?"

-"Which one of you is impeding my progress in the International Court of Justice?"

- And ultimately, "You are an insignificant insect. You are a troglodyte who cannot even begin to comprehend that you are given this thing we all refer to as a brain. You stood behind the door when God handed out intelligence. You never amounted to anything before getting on this show, and you never will. You are made of phail. You are the weakest link – Get out!"

If anyone ever wants to produce a new version of The Weakest Link, here's hoping you take these candidates under consideration to host this surefire awesome revival.