.:The Bound And Gagged Megapost!:.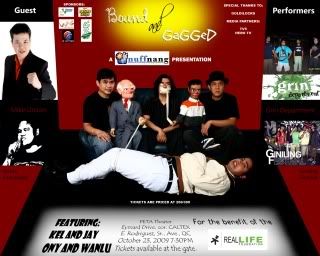 It was a blast! If you didn't catch it, too bad!


October 23: The second Kel and Jay megashow has just wrapped up, and it was one awesome show for the ages. What started as merely a brainstorm for something bigger and better ended up becoming a reality, and one that we certainly will be pulling off yet again sometime next year.

Getting The Pieces Into Place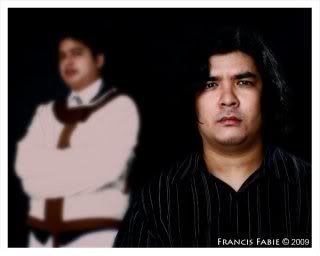 Oh, yeah...


The date of the show was set up since March of this year. We wanted a sequel to "Laughs And Gasps", and we wanted to make it a bigger and better show.

Initially entitled "Music and Misfits" because the original concept was music and magic, the predictable departure of a rather disappointing cog in the machinery ended up with us looking to take the show in another direction. After a while, it all made sense: the show will be called "Bound and Gagged", and will feature escape acts and the top ventriloquists of the country, thus indicating the main thrust of the show.

That was well and good, because I'm on fairly good terms with two of the best ventriloquists in the country, sir Ony Carcamo and sir Wanlu, who are definitely amazing performers in their own rights. Wanlu was also part of last year's show, and is now a hall of famer in TV 5's "Talentadong Pinoy", while Ony is actually Wanlu's mentor, and is someone whom I personally believe would be recognized as a National Artist sooner rather than later.

So it was all well and good, and we wanted a comedian like Giselle Sanchez to complement the show. With Ms. Sanchez booked in Hong Kong on that date, there was no way we could get her, so we had to look for the likes of Ms. Tuesday Vargas or even the controversial Ms. Candy Pangilinan. All things considered, things didn't pan out too well in the comedy department – until the Comedy Cartel came along.

You see, I've already known the Cartel for a while, but I haven't really had the opportunity to pick their brain, only getting snippets of their show mostly through my good friend, Stanley Chi. At some point in April, I got into standup comedy myself and I ended up feeling that hey, this show can carry itself without necessarily having some super name value. That's why I ended up getting one of the pioneers of Philippine standup comedy, Mike Unson, and the winner of the Tawag Ng Tawa, Richie Fernandez. As a huge fan of comedy, I knew I could count on Mike and Richie to deliver the goods.

The last thing we wanted to consider were special musical guests who could enhance the show. It was an easy choice for us initially. We wanted Project 2 and Grin Department. Unfortunately, Project 2 disbanded, but in their stead was one of the cult favourites in the local music scene, Giniling Festival.

We were hoping to get the Itchyworms at the last minute, but their volatile calendar prevented us from doing so. Next year, just you wait... heh.

The Buildup



Rope a dope! LOL. I love being the writer of these recaps.


The sponsorship process was long, and arduous. In the end, though, we can't thank enough Geiser Maclang, C2, Granny Goose Tortillos, Jack n Jill Potato Chips, E-Games, and Goldilocks for helping us make this show happen. The bulk of my thanks though is reserved for the last-minute miracle courtesy of my bosses at Nuffnang Philippines allowed me to actually make the show happen without me having to go through last year's expensive lessons. All in all, the sponsors helped us majorly, and even our media friends, TV5, NBN 4, and Hero TV, were more than enough help.

I even went on to do radio tours and stuff to promote the show. From RX to WAVE to Magic to RT (Where I now sorta regularly go on air, thanks to King DJ Logan.), things have been going just peachy. All in all, I was grateful that my friends on radio really pulled through and helped me promote the show as much as they could. It's hard to find friends as awesome as these guys are. We even had people walking in on the day itself just to check out what's going on.

The people at PETA Theater are also nothing short of wonderful guys to work with, too. They were there, helping us out at every step of the program, and they really supported us all the way. I couldn't be any happier about how well they treated us if I tried. Seriously, these guys are pros.

On the day itself, we were rehearsing all our stuff like crazy. It wasn't easy, but we definitely made it work, and Brenda's role in the finale was something we couldn't take for granted. The guys from The Story Circle really made sure that every single detail about the show was running in top form, and even my mom got into the act, making sure things were ironed out perfectly. I was the producer, the marketing guy, the promoter, the stage director, and the performer. It was going to drive me crazy if i didn't have any help at all, and these guys really came through in a pinch.

The First Half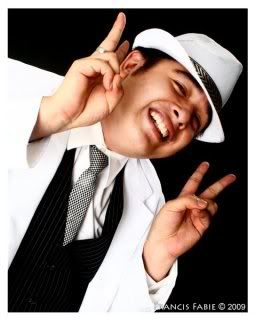 Annoying pose, isn't it?


The show opened with a bang, as Carl Quion, the youngest stage magician in the country, performed an amazing routine that just made people's jaws drop. Carl helped us out immensely in preparing for the show, so there was no way I could refuse when he volunteered to be an opening act for the show.

It was great, as Jay and I went onstage and started talking to the audience. It was funny, really. We had a captive audience, and I even ended up squeezing in a bit of my standup as we needed to buy time for the first band.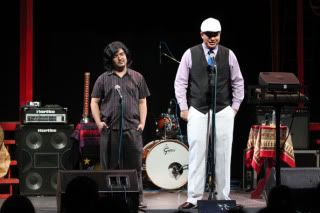 The contrast is umistakable. Photo courtesy of Lei.


In all the merrymaking, Giniling Festival then stepped up and really got the crowd going. I was a bit worried about two kids in the audience, but it seemed that Giniling Festival wasn't going to cause much grief for them at all, and their segment actually went over pretty well.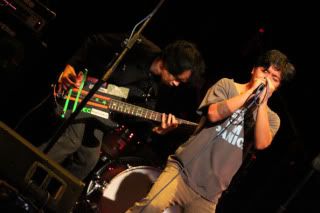 Again, courtesy of Lei.


Anyways, after Giniling got the people going, Jay and I went back up and performed Gypsy Mystery, emphasizing that one of the first things Tito Lou Hilario gave us as advice about the routine is to never perform it with two men. Clearly, we listen to such sound advice.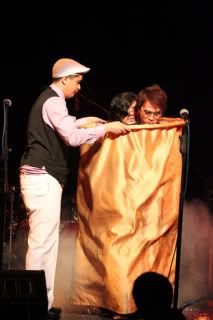 (W)hoops! Yep, still a picture from Lei.


Things were happening on full clip because we wanted to cram as much fun as possible within three and a half hours. Richie Fernandez then took on the role of doing some really great standup as he regaled everyone with his unique spin on comedy to the delight of the audience.

After this, it was my turn, as I performed a David Copperfield classic: the Slo-Mo Dove special. It was, without a doubt, one of the most embarrassing but memorable parts of the night, particularly since I danced "Nobody". Twice. Once in slow motion.

It was good clean fun, and we wanted to end the first half of the show with a bang, so...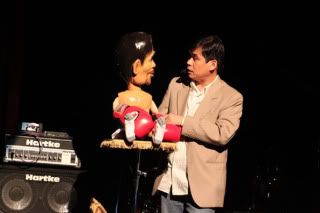 Wanlu and Manny Pexman never looked better together. Also from Lei.


Wanlu's set featured multiple puppets, talking masks, and even a marionette. There was no question about it, really: Wanlu was the perfect act to cap off the first half of the show, as we knew he was going to really get the crowd on their feet. Needless to say, he hit one right out of the park, and we were heading off into intermission with a lot going for us.

The Second Half

I wanted them to be the main event of the show, but they were a bit reluctant since they had a gig in Bicol the next day. As such, we had them open the second half of the show.

Now, I'll be honest with you: with the kids in the audience, maybe Grin Department wasn't the smartest choice for entertainment that night. Their very loud, off-color, in-your-face style of music certainly isn't meant for kids. Their notorious reputation for giving the fans more than their money's worth isn't without basis, too. What was supposed to be a five-song set became a five-medley set that had audience members polarized but reacting throughout the entire time.

Regardless of how you see them, though, they are legends in their own right.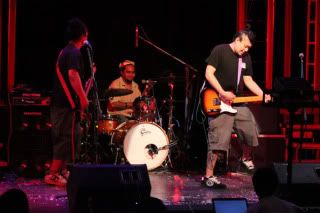 Yep. Lei took this photo, too.


To me, it was an amazing moment to see Grin Department really just tear it up on the stage, and they were well worth the extra cash I had to cough up for going overtime. I had to manage my audience, though, and a quiet moment where I performed metal bending for the kids in the audience who had to leave the show really made me feel that as crazy as things were going, we were still on the right track. I was worried about time, but the remaining acts were going to really step up the tempo of the show. If this show would run for five hours, it better be the bloody best five hours they will ever go through, and I'd like to think we achieved that.

Jay Mata was up next, and in true form, he proved for a second straight time why he is one of the premiere mentalists in this country.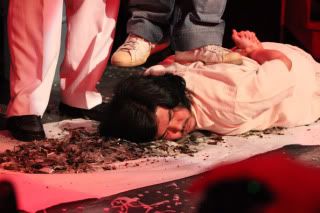 You just had to be there. Seriously. Picture from Lei.


He did what he did last year, with one key difference: when he had a volunteer step on his back and face, he withstood what must have been unbelievable pain and held off for at least fifteen seconds. While last year, the volunteer, Mike Abundo, was indeed tall and not exactly a light person, the volunteer this year was noticeably heavier. And Jay survived it.

The lighting at this point was perfect. We wanted to convey a moody atmosphere, so instead of having the goings-on projected on a huge screen, we instead asked the audience to gather closer to Jay so they could see for themselves what he was doing. It was eerie, it was unbelievable, and it was just... surreal.

Afterwards, the audience was still in for quite a treat. My personal favourite standup comedian, Mike Unson, was next.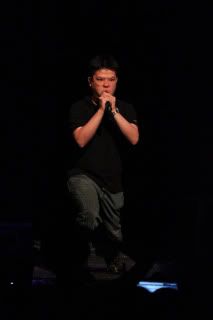 Ang galit na nauwi sa WALAAAAAA!!! Photo from Lei.


The audience was laughing like crazy at this point. There's a reason why Mike Unson, in my opinion, is one of the best Filipino standup comics ever, and he proved it that night. Every single joke was met with raucous laughs and heartfelt applause. And he did all of this in record time, being the consummate professional that he was. He was just on a different plane that night.

And the thing is, when you step the game up like that, you just know that with a show like this, there was no way things would go on a downward trend. Ony Carcamo followed things up with an unbelievable set where he used only one puppet, Mr. Parley, but he still managed to get people laugh non-stop for what seemed like hours of non-stop entertainment.



I won't spoil anything here. You should've been there. Pic by Lei.


What really amused me was how Ony actually referenced Mike in his set and it was just so natural and hilarious. The whole "this is PETA theatre" bit was just awesome, and I couldn't think of a better one-two punch than Mike and Ony performing and just really taking everyone's breath away. This was grade A comedy, and I was just so proud to have been witness to it.

And then came the finale. Naturally, that meant we had to Rickroll people. Again.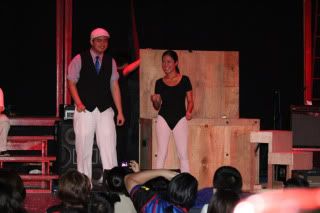 You know the rules. And so do I. Pic by Lei.


Paying tribute to the Pendragons for our last act, Metamorphosis is often regarded as "the fastest illusion of all time". Behind the choreography and dance steps, it was a matter of doing something so fast, that anyone who'd so much as blink would regret it.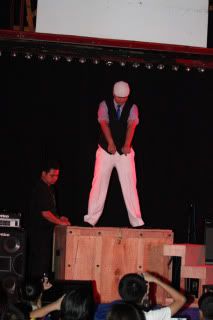 Not pictured: Brenda is in that box. Picture by Lei.


... And we pulled it off. Brenda was in the trunk one moment, and the next, she was outside of it, leaving me inside the trunk.

But it wasn't over. Not by a long shot.

Throughout the night, you see, Jay was on the receiving end of my jokes and ribs. He vowed revenge, and promptly knocked me back into the box to lock me in there until he saw it fit to release me. He even started to thank everyone for going to the show and was sending them on their way, what with me trapped in the box and all.

That's why I had to tell him off right then and there.

From the balcony.

Yep. You read that right. Ever heard of the Transported Man? That's sorta what happened right here. And it was a success. A tremendous finale that we worked on for weeks, and it paid off in the end.

The Aftermath

Well, the show happened, and I couldn't thank the people who went enough, especially my friends from Ditzy Diner and the Laffa 2 guys, as well as Jeff Tam and the other people from IMC. Things would've been perfect despite Grin Department going a tad overtime if it weren't for one thing, though...

Some rotten soul stole my cellular phone off the stage, and even stole a lot of other stuff backstage that night.

It was sad, really, as this was a charity event, and this was the last thing you'd expect from an event like that. Nonetheless, I'd like to think that the world has a way of balancing itself out, and the good we've done for this night cannot be outweighed by the bad things that may have happened.

Oh, indeedy. You can be sure we'll be doing this again next year.

Thanks for the support, one and all, and we'll see you again soon for the third Kel and Jay megashow!