.:6/365: The Osterlind Breakthrough Card System:.

Watch Jay Mata perform the BCS at around 3:50 of the video.


I rarely work with cards as I have a bias against them when I perform, but Jay Mata, the other half of the Kel and Jay tandem, is well-known for performing card magic and card mentalism. This effect is simply one of the most stunning mentalism routines ever: imagine being able to know what card a person is thinking of with but a snap of a finger.

People sometimes insist on classic principles like the "KC" principle or the "G" principle. It's neither of those. In fact, any claims to that effect are laid to rest the minute Jay asked Lyn Ching to select multiple cards rather than just one, and when he had her hold both cards in one hand each, and successfully divine which card was in which hand.

I can't tell you enough how brilliant Osterlind was in coming up with this System. It's one thing to be able to guess a card picked from a deck. It's completely another to pretty much read a person's mind as they are thinking of their card the way Jay does here.

.:Today's DK: Featuring Byahilo!:.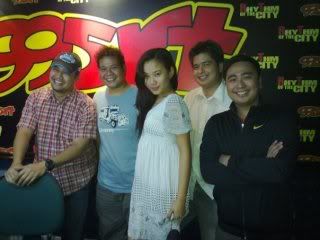 Ang bongga ng lolah moh! And Cleo, too. LOL.


One of my good blogger friends, Byahilo, was a special guest on the Disenchanted Kingdom this morning. Overall, it was a very informative episode, as he pretty much demonstrated to everyone how it's possible to actually make a living off of blogging if you simply work on it and pull out all the stops necessary to get there.

It was pretty amusing though when Logan tried to set up some "Por-No, Por-Yes" and he found out the only pornstar Byahilo knew about was Peter North, though.

Overall, it was a great show, and we managed to talk about some important times about what's necessary to successfully monetize your blog, and how a company like Nuffnang or Google AdSense could help you out in the long run. I was losing my voice already, but that didn't stop me as I was still very much stoked about how well things turned out for Byahilo's first ever radio guesting.

Ultimately, this was a great day for the DK, and one can hope more similar segments featuring offbeat income sources would arise in the coming episodes.