.:To My Lovey-Dovey...:.
It was an amazing week or so. One that I'm very happy about, and it was wonderful while it lasted. I wish you nothing but the best. >:D<


.:DK On The NY:.
It was the first Disenchanted Kingdom of 2009, and it was a rather quiet one, albeit punctuated with a lot of fun moments as it was a packed house, and Marf's snoring became an actual highlight of the program, since Logan asked me to put Marf on the air while he was passed out on the couch.
Anyways, it was a great way to start off the New Year, although the day was surprisingly short, as the DK lasted only two hours today. Heh.
.:Watch The MMDA Get Pwn3d By The LRTA!:.
Ever noticed these signs on structures that happen to jut out even by just a bit into the sidewalk?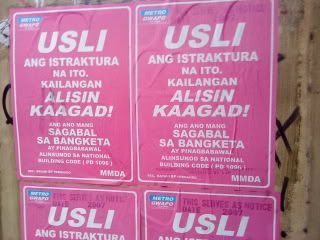 No, they're not going to solve that problem for you, either.


Isn't that the silliest thing? They practically vandalize a structure, and they're not even going to try to fix the problem at all. They'll just put that annoying pink sign on the structure, and call it a day's work. Brilliant.

Well, if you needed any proof that these people just stick these signs arbitrarily without knowing what the building they're sticking it for is, then look no further. You see, they actually stuck some of these posters on a building that, if I'm not mistaken, powers the LRT-2 Katipunan station. Well, the LRTA was not going to be a pushover for these shenanigan, so not only did they tear off these annoying posters...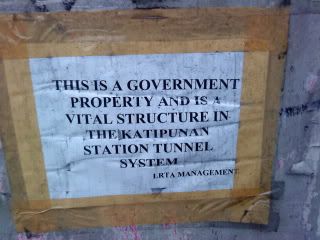 Pwn3d!


... they even rubbed it in the faces of the MMDA that they are way off base in sticking their posters where they don't belong.

I don't care how progressive Marikina got under BF. I don't care how many "improvements" he claims to have made in the MMDA. I am just sick and tired of seeing his face plastered all over the Metro when he was heading the MMDA, and suspiciously enough, these posters even make their way outside of Metro Manila! I don't know about you, but now that he's running for higher office, all his "achievements" ring hollow to me.

By the way, the baby blue + pink color scheme has got to go! Seriously. Iyan ba ang mga kulay ng tunay na lalake?!?