.:More DK Hilarity!:.
Expect me to be doing more of this in the coming weeks, because I plan to drop by the Disenchanted Kingdom more often, but the DK has been extremely fun last night, as not only did I meet their new jock, Angry Bird, for the first time, but I was even introduced to this awesome girl who baked cookies for the DK crew, Ms. Bernie Ann!
It was a fun night, really, as we were just having fun talking about random stuff including certain things that fall under "too soon," but then, once Bernie Ann came in, we just decided to have a lot of fun with her by playing Por-No Por-yes, and boy, did she do well, getting an amazing nine out of ten, coming behind only Rhian Ramos herself, who scored a perfect ten.
It was funny, because I actually had to explain certain things to her about the porn industry, and Logan poked fun over my level of knowledge despite the fact that I happen to have the worst score in Por-No Por-Yes of all time. I told her about stuff like the YouTube channel "Porn Minus the Porn", as well as did Mr. Voice impressions for movie trailers about the weirdest porn films, and I had to explain copyright laws that allow porn companies to produce films under the "parody" defense without having to worry about being sued by their original sources.
Overall, it was a pretty fun show, and Marf's ODK was as great as it always happens to be. I fumed a bit about the news over Enchong Dee courting Kim Chiu. So not happening. LOL.
.:Marry Me, Kim Chiu:.
Now, everyone knows how big a fan I've always been of Kim Chiu, and considering how I've practically reviewed every film of note where she starred in with Gerald Anderson, I guess that was no big surprise to anyone.
To me, despite her sometimes odd speech patterns, Kim Chiu exudes grace, poise, and utmost class. There's just something about her that makes it impossible for you to want to ever look at her in any other way than as the paragon of the demure but beautiful Fil-Chinese lady that she is.
And then she shows up in this TV commercial...
What is this? I don't even... is that even possible without CGI? Did she just scream out to everyone that she's Elasti-girl in disguise? This is outrageous! How dare she betray her fans and shed her squeaky-clean image and look like a complete whore? How could she ever live this down, and... waitaminute, she's really that flexible?!?

Marry me, Kim Chiu!!! :P

.:News Article Title Fail...:.

So apparently, the Megastar picked a feud with Hayden Kho because she jumped to conclusions. At no point did Hayden Kho even say that he was pertaining to Sharon Cuneta, but apparently, Ate Shawie has had her billboard scoffed at one time too many and ended up pouncing on the first hint of snark in her direction.

Unfortunately, she looked like a fool when Hayden promptly responded to her and denied the whole thing. Even more unfortunately, the news article was titled this way...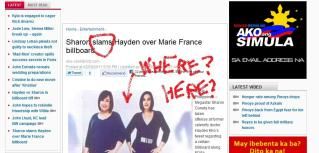 Really? Really?!?


She slammed him on the billboard! How hardcore is that? It's like a Wrestlemania moment or something!