.:Heavy Hitters:.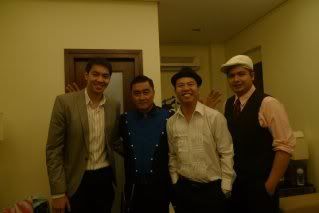 Pressure!
I dunno about you, but I felt small last Saturday when I had to share the stage (or tables, if you will) with Conrad, Jeffrey Tam, and the Dean of Philippine Magic, Lou Hilario himself.

While I have certainly established myself in the industry to an extent, it has mostly been due to a strong work ethic than sheer pizzazz that has allowed me to become recognized. Last Saturday, I was surrounded by three world-class performers who treated me as an equal, and made me feel honoured to be considered among them.

Blue Leaf played witness to us that night, as we went all-out and performed for the employees of B Braun as they celebrated their 25th anniversary. I even chanced upon meeting some fairly interesting personalities along the way, but really, what made the night for me was the chance to find myself performing side by side these people whom I certainly respect very dearly.

This show was one for the ages, no question about it. With Conrad, Jeff Tam, and yours truly on the tables, and Lou Hilario himself onstage, you'd be hard-pressed to find a lineup of prestidigitators that was more heavy-hitting.

.:Wahoo!:.

Looks like the papers covered the World Wake Championships, but lo and behold! Take a look whose mug managed to get squeezed into the papers yet again!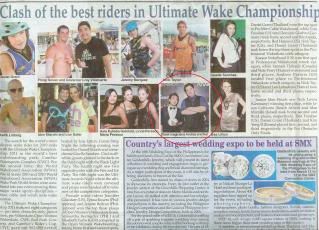 Wahoo!
Man, that show was just great. I hope we could do it again soon.