.:Thanks, Chowking! My Life Is Complete:.
Last night, in celebration of Chinese New Year, Chowking asked several bloggers and media people to go to Mercato and be a witness to Chowking's as they celebrated the way only they could: with a bang.
The whole thing was hosted by Ms. Lyn Ching, who was as eye-catching as ever, and she actually remembered me from my several guestings for Unang Hirit in the past. It was really great meeting her again, and after three years, it finally occurred to me to have a photo taken with her...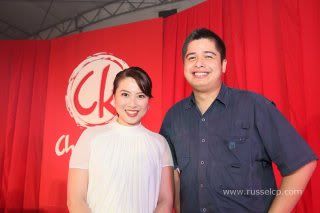 She is still awesome! Photo from Russel.


Anyways, as she went through the signature dishes of Chowking with father and son chefs Gene and Gino Gonzalez, who cooked their own versions of sweet and sour pork, orange chicken, and tender beef broccoli, as the audience's mouths watered with each dish, although we did have some dimsum and some Chicharap for appetizers. As the ineffable Lyn Ching talked up the tastes and sensations of each delightful morsel while poking fun at herself for her supposedly imperfect figure, two of the brand ambassadors of Chowking also made an appearance that night, which made the whole thing even more exciting.

Of course, as everyone can assume, Mr. Jericho Rosales himself was there, which was all good, but more importantly...

Kim Chiu was there.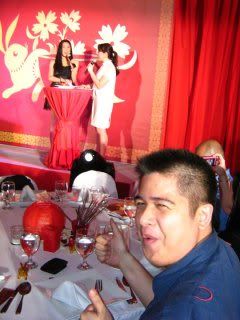 This features the Marcelle Fabie seal of approval! Photo from Bambi.


From the moment I got the invite to this event, the main reason I went was because, as I told my organizer friend, "You had me at 'hosted by Kim Chiu.'" I was hoping to run into the lovely young lady, and while I talked a big game of approaching her and leaving a lasting impression, it was pretty clear to everyone on my table, from Arpee to Bambi to Russel that I was not going to be cool and unflappable that night.

My heart was pounding every single time I was within ten feet of Kim Chiu, and I wasn't sure that I wouldn't faint if I managed to so much as talk to her. In fact, the only time I could remember myself having a smile this huge was three years ago, when I met Rick Astley during his party in Alchemy (And now that I mention it, that doesn't sound like a very manly thing to say...).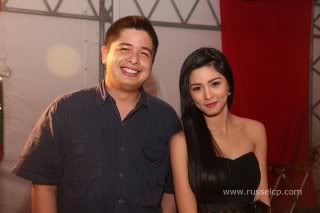 Mas singkit pa ako kay Kim Chiu sa sobrang ngiti ko! Photo from Russel.


I finally mustered up the courage to have a photo taken with her, and she was kind enough to oblige me. I stood there, grinning from ear to ear like a complete idiot, and the pictures were taken, then I offered a handshake and a heartfelt thank-you to Ms. Chiu, all while I was doing everything I could to keep myself from hyperventilating in front of her.

Unfortunately, she was looking away, and one of the organizers had to tap her on the shoulder to say I was sticking my hand out to thin air. She smiled sheepishly, shook my hand, then said...

"Sorry po, kuya!"

I was mortified, and if I turned any redder, they'd probably think I was already bleeding. But for the rest of the night, I was beaming proudly because finally, after all this time, I have met the undeniably gorgeous and incomparably flexible Kim Chiu. Only Chowking has made this possible for me, so what else can I say but "thanks" to those amazing people who not only serve great and affordable Chinese food, but also made me smile genuinely for the first time in a long while?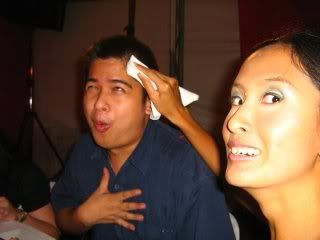 I think I need to have my heart rate checked... picture from Bambi