.:TAuMBAYAN's 2nd Anniversary: We're Baaaaacck!!!:.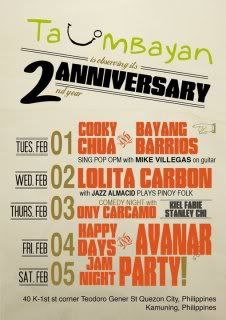 Yep! We're performing in Taumbayan this Thursday night, around 9PM!
Okay, they may have misspelled my name, but myself, Stanley Chi, and the one, the only Ony Carcamo are slated to perform this Thursday night (Yep, Feb 3!), and we're going to keep on doing what we do best: entertaining people like nobody else could. And all for the price of 150 bucks! Talk about a drop-dead bargain. Comedy. Magic. Mentalism. Ventriloquism. All in one awesome night!

If you didn't know, TAuMBAYAN is located at 40 K-1st Street, corner T. Gener, in Quezon City. That's in the Kamuning area, so there's no way you could miss it.