.:A Return To Form:.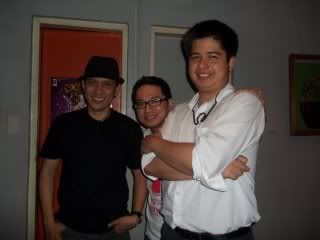 Nothing but sheer awesomeness!
After several months of being out of action, the Terrific Trio of Ony Carcamo, Stanley Chi, and yours truly performed in TAuMBAYAN in celebration of their second anniversary. To say that we had a great show is a massive understatement, because not only was it a good show, but absence indeed made the heart grow fonder and last night, everyone laughed just a bit louder, clapped just a bit harder, and enjoyed the whole night just a bit more.

As always, I would set up the night by doing my comedy, magic, and mentalism, and it was an excellent chance for me to showcase some of my material in the middle of fun routines that I always go to whenever I am onstage. Overall, the people in Taumbayan were certainly game for that night, and when I actually did the Abnormal Lift to cap my segment off, I was surprised to discover just how high they could actually levitate Louanne on their first try. It was pretty impressive, to say the least, and it was the perfect way to lead into the rest of the night.
Stanley Chi came up next, and with a good mix of old and new jokes, he managed to get the crowd to yuk it up with his very witty and pop-culture reference-riddled style of comedy. I must say though, that he seems to have improved by leaps and bounds from when I last saw him, perhaps because of his comfort level, or mainly because I think his best standup comedy output has always been in Taumbayan rather than in Spicy Fingers or even Conspiracy. Still, it was quite a fitting return to Taumbayan for the man, as he definitely rallied the crowd and then swerved them when he started introducing sir Ony after he did his bit.
The minute Ony Carcamo went up to perform, the people in the room realized that they were witness to something special. A show with yours truly or Stanley Chi alone would have been already worth the price of entry, but having the country's premiere ventriloquist close the night off with his very unique ventriloquist style, and with us being treated to three different puppets for the night, there's no question that Sir Ony definitely put up quite a marvelous show to really cap the night off with a lot of great laughs, and even a bit of a detour into mentalism. Long after the show was over, the people who came to see us still hung out and swapped stories with us. It was, without a doubt, a great night, and all things considered, is something I'm looking forward to doing again next month.
.:Nuffies' Day Out!:.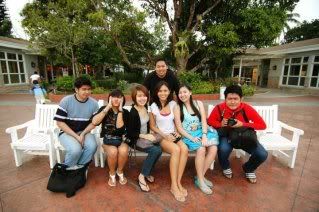 If you thought we actually spent our day in Enchanted Kindom, you'd be sorely disenchanted...
While Sunday was my M:TG tournament day which proved to be quite a success for me (Don't believe me? Well, check this quick
tournament report
out.) and capping it off with dinner in Mang Jimmy's was certainly a welcome development, I have to say that my first tournament win in 2011 was easily overshadowed by the time I spent with the Nuffies in Enchanted Kingdom last Saturday.
Okay. Maybe I should correct that. We were
supposed
to spend our Saturday in Enchanted Kingdom. While we were singing our lungs out on our epic road trip to EK after being three hours behind schedule, we arrived in EK and noticed that there were almost as many buses as cars parked in the vicinity, and these buses were clearly filled with students on their field trips. One look at the line told me all I needed to know: Enchanted Kingdom was packed to the rafters, if EK actually had any rafters. With the other Nuffies not willing to give up just yet, I used up one of our tickets to go in and scout how heavy the human traffic was in the theme park. On a scale of 1 to 10, 10 being akin to Ayala's MRT station during rush hour, It seemed like I was looking at a 7 or an 8, and it wasn't worth waiting 20-45 minutes per ride, or worse.
So that was that, but what a waste! 11 tickets that we couldn't use any longer since they were set to expire soon, and... hold on one minute. Wouldn't about a third of us in the Nuffnang delegation (Plus Jaja from Admin.) actually happen to be, I dunno,
salespeople?
Realizing that, Rendhl and
Denise
managed to sell all eleven tickets within the next fifteen minutes, and we decided to take a road trip to Tagaytay and from there, we started doing all sorts of inane stuff, including a Dougie instructional video that I promised the Nuffie princesses I wouldn't link to here in my blog under pain of death...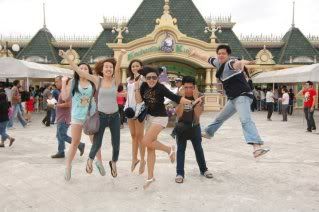 Thanks to being ribbed about my obscenely large feet to no end, I decided to hide my ogre-riffic podiatric digits via this demure pose. Masculinity FAIL.
We tried out the Fro-Yo (Meh.) and the Mochi ice cream (Awesome, but costly.), and after photos of and by the awesome view of Taal Volcano, we decided to have dinner in RSM, mainly because Jaja and the Nuffie ladies were clamouring for Bulalo. There was no reason to deny their request, so we just had a sumptuous dinner that was covered by our newfound ticket-fueled food budget...
Having said that, since I'm not really a food blogger, I figure I can pass on having to show you pictures of the food. I'm sure
Judd
would have a post with the requisite pictures of it at some point.
It was great just shooting the breeze with the Nuffies, considering how close-knit our group is. Professionals outside and in, but great friends outside and in all the same. It sure beats not wanting to ever see your officemates whether inside or outside the workplace, right?