.:My CamSur Adventure Megapost: A World Beyond Words:.
As a note, if the picture features the CWC logo on it somewhere, then that picture was taken from the official CamSur Watersports Complex website. My lowly phone camera simply can't do enough justice to the awesomeness of the place.
So after a couple of weeks where I wasn't so sure how things were going to turn out, I ended up having a gig and a pseudo-vacation in the heart of the world's best wakeboard park, CamSur Watersports Complex in, of course, CamSur. It was quite unexpected, but I was pleased as punch because I heard it was going to happen at the same time as the World Ultimate Wake Championships, which probably meant I wasn't going to have the chance to try wakeboarding myself, but was going to be a ton of fun, either way.

Tuesday night, I got to Isarog station with a bit of stuff in tow, deliberately leaving my laptop behind but stupidly not borrowing a good camera or something from someone, anyone, just so my trip to CamSur would actually be well-documented and well-photographed, for that matter. I guess one out of two isn't so bad.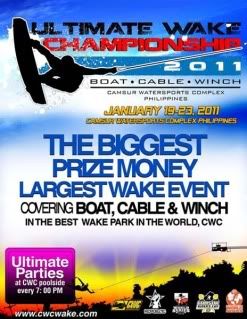 Oh, it's on!
The Prelude!


So Andres and I were slated to perform there, and we were more than up to the task of entertaining the best wakeboarders and wake skaters in the world on Wednesday night, which was dubbed the "Casino Royale" night: it was a night for Texas Hold 'Em Poker, and of course, a couple of onstage performers who knew the perfect recipe to get the crowd rolling. The fact that the El Ray and Bellefire dancers were also at hand for the night certainly didn't hurt our chances of winning the people over, either.

We got to the venue around five in the morning, then hit the sack, and woke up around lunchtime, where we found out that not only did CWC have a great clubhouse restaurant with an awesome variety of food, but their food was pretty affordable, which was something I totally didn't expect. I was thinking we'd be hit with tourist-like prices, and instead, ended up feasting on 220-peso Crispy Pata's, which is a steal, especially since two people could barely finish the portion they serve you up, let alone one person. The clubhouse was just right beside the actual venue, so it was going to be fun.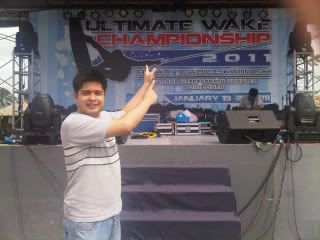 That's where we were gonna be for the evening!
We took in the sights and really felt impressed by how electric it feels just to be in CWC. Even if I couldn't really wakeboard not just because I've never ever done it before but also because it was closed off for the non-participants in the competition, I felt myself vicariously live through every leap, twist, and turn they made as they practiced for what was probably the culmination of a rigorous training regimen they have willingly put themselves through just to deserve a shot at the claim of being the best in the world at what they do. I also noticed that about 95% of all the participants were lean and/or muscular, with probably less than five exceptions throughout my entire stay...

So after properly acquainting ourselves with what we were going to do and what the lineup for the night was, Andres and I decided to take in some of the sights of CamSur and Naga, which led us to take a motorcycle ride to a place that anyone would recognize...

SM City Naga!

SM City Naga is pretty cool. It's a lot like most of the other SM branches outside of Manila, but definitely still an imposing presence in the city, nonetheless. I didn't feel the need to take pictures of yet another SM branch, but right outside, something definitely caught our eye...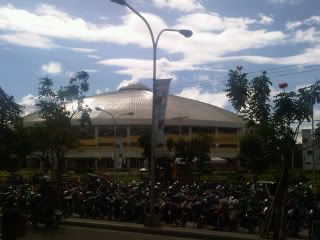 Araneta Center Naga?!?
Turns out, this was the Naga Coliseum, and this is pretty much the hub for any big events or concerts going on in the city. It was amusing though as the first thought that hit my mind upon seeing it was that this was definitely Araneta Coliseum brought to Naga. Nonetheless, Andres and I decided to trudge on inside the mall to check out what we were told was a magic shop inside the mall. After going around the place, looking for odds and ends we could buy to enhance our routine, we were scratching our heads as there didn't seem to be a single magic shop anywhere in the vicinity.

And then, Andres and I looked at each other and promptly facepalmed, because yes, we did find a magic shop in SM City Naga...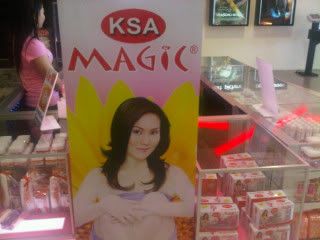 Magic nga! Fail.
Amused but also pretty much bored since once you've seen an SM City, you've seen them all, Andres and I decided to bus our way back to CWC and prepare for our show for the evening. Andres wanted to go around Naga later that evening as well for some... ahem, room guests to cap off the night, so I decided to join him, if only to see how those things go. I was rather disinclined to actually avail of one for myself, simply because it just isn't my thing. But that's a story I'll have to share for later, as we have to talk about showtime now.

I took one look at the poster, and I knew...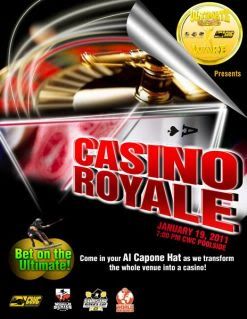 This is going to be a blast.
It's Showtime!


Too dark? Blame my Blackberry. 
And with that, it was showtime, as we found out that the host for the evening was none other than Ms. Chesca Litton, who turned out to not only be an excellent host (Which we already knew.), but also a huge fan of magic (Apparently, her hubby wooed her through magic.). With a host on our side, we knew it was going to be great going in, even though a couple of drunken audience members wanted to show their own magic tricks off. This was a tad unfortunate for Andres, who volunteered to open, as he had to contend with a guy who wanted to show he can backpalm a card and a guy who does a mathematical mental trick, and losing his coin purse which contained his collector's item coins that he uses for his coin magic. Bummer.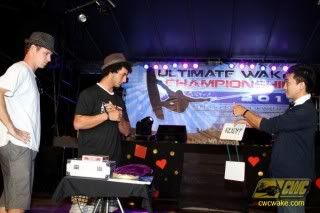 Oh, he's born ready!
Despite that, and despite his well-documented but self-aware difficulties with the English language, Andres really managed to get the audience to laugh along and be entertained at the same time. It was a comedy-magic spectacle at its finest, and the audience really just appreciated Andres and his very casual but effective approach. It's safe to say that thanks to him, my job for later that evening just got significantly easier, to say the least.

Breaking A Leg!

So finally, I got up onstage, and I introduced myself to the audience. I made it a point to channel a bit of GB Labrador as I bantered with them, then quickly moved into my Coloring Book Repeat, just to get a feel of how participative the audience actually is. When I saw that they were laughing at the routine, I knew I was on the right track, and could focus on more comedy and less actual dazzling wizardry.

The Shanghai Shackles came out next, and from there, everything was virtually on auto-pilot as the audience were laughing, cheering, and hooting in approval at arguably the best non-life threatening escape act in any escapologist's arsenal, next perhaps only to the straitjacket. I was feeling the groove already, and that was when I spied a very striking member of the audience, at least from where I stood. I thought she was Korean, but it turned out, it was a Japanese girl named Sachika.

If you've ever seen me perform in the past, then you know what routine was going to come next.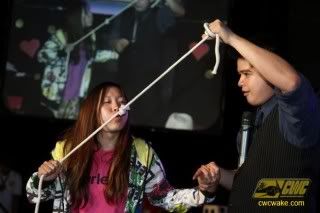 The infamous rope trick, ahoy!
While I was doing my routine at this exact point pictured above, one of the Australian riders actually called out "this is the best magic trick ever," and applauded wildly as he knew where the magic really was going on, and it wasn't with the rope. If I was initially disinclined for the night trip Andres had in mind, I was even more disinclined now, as I decided to focus on Sachika's delegation from Japan after the show. I made a mental note of this, then moved onto my mentalism segment.

It was my first time trying out John Archer's version of the Bank Night, but I was happy I did. I got some of the hilarious gags in, plus a bit of improv on my part, particularly when we got to the line "mine is bigger than yours." As I was speaking to an American, I quickly went, "No, I'm kidding. I'm an Asian, so that's genetically a lie." The audience was yukking it up, albeit I'm assuming the minors in the area had no idea what was going on.

So after I ended my set, I knew it was a job well done for Andres and myself. Nonetheless, after the show, we headed off to this table...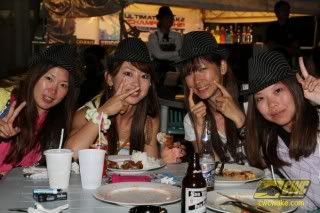 Care to guess why?
After performing for them some more, I actually gave them my calling card so they could keep in touch, and it appears they will be back in CWC next year, which gives me an opportunity to meet these amazing Japanese people again. Too bad I didn't see them in the water, though. I didn't get to make acquaintance with the Koreans on the other table, as well, who actually acknowledged me the next day with jazz hands as I walked past them.

Still, it was an entertaining night. It was also surprising because let's face it, I almost never do any card magic at all, but...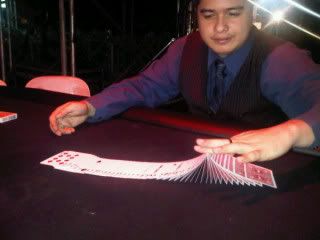 I'm pretty proud of that picture.
The Late-Night Misadventure!
Since I wanted to play it safe and not wear out my welcome with the Japanese, I headed out with Andres as we hitched on a couple of motorbikes, as we went around Naga, looking for some, ahem, company for Andres. It was misadventure after misadventure, as I can safely say that if Andres decided to turn to me and give me money to get any one of the ladies we met that night, I'd actually give him back the money plus interest just so he'd leave me out of it. This was, no joke, a purely academic pursuit for me, and I managed to amuse myself as they kept flitting from place to place, and as I tried to understand the codes and protocols these people observed as they went about their business.
Around an hour and a half into the whole thing, I decided to call it quits and asked to be brought back to CWC. This was when someone decided to message me and
really
put a damper in my night, but I took it in stride and just decided to put my fingers firmly in my ears and repeatedly say "Mea culpa" until she stopped bugging me. Let's just say that I'm more than just a little disenchanted, and what should've been a great and fun night soured juuuust a bit thanks to that one.
Still, I got back, and saw that some Americans were flirting with the Japanese delegation. It was clear that despite the flirting going on, the Americans were not going to get lucky that night, though, and I actually walked the Japanese ladies back as our cabins were in the same general direction. I think it helped that I knew a lot of Japanese and managed to actually get Sachika's e-mail. Hopefully, I can also be in CamSur the next time they come back here, because it's bound to be a lot of fun.
In fact, I am, by default, an English conversation buddy of sorts for Sachika as she tries to spend the rest of the year brushing up on her English, as she seemed dazed and confused while I was speaking to her as I was unconsciously using words well out of her vocabulary at the moment.
Fair enough, it's not like I can hold much of a conversation in Nihongo, so she's got me beat there.
Parting Is Sweet Misery...
So with the resolution that I will be back to learn wakeboarding before this year ends, I ended up leaving CamSur the next evening, after taking a dip in the pool and enjoying a massage albeit they didn't give us back our change. I even ran into the great Giselle Sanchez, as she was the host of the event the night after ours. I would've loved to catch that, but the office was calling me back. Heh.
As a funny aside, while I was having my massage, Gabby actually reprimanded me for being on my BB while on vacation.
What I found exceptionally amusing about the ride back home, though, was that we were given one of those bed-type buses. It was a very comfortable ride, albeit way too cold for me to sleep properly, and way too small for when I had to initially climb up as I was in the upper bunk for the trip. Still, it was a great and smooth ride back home, and a conversation with
Abby
helped me process the experience very well.
After almost two full days in CamSur, I realized that there wasn't enough time for me to really enjoy myself, not just because I didn't stay an extra day or two further, but also because of the competition itself, which meant that the Wake parks were off-limits to non-contestants for the most part. With that in mind, I really want to come back when I have more time and plans at my disposal, as I really resolve to learn how to wakeboard and be at least competent at it. Admittedly, while surfing also sounds great, I'm fairly biased against surfing for reasons I'd rather not specify. Wakeboarding is where it's at for me, albeit it's obviously gonna be costlier for me.
But you know what? It's worth it. CamSur was a great place to just relax and unwind, and I can't wait to do more of these travels for the year, as I told myself I would be doing in 2011 as of late last year.
I'm gonna be back, CamSur! Be ready!