.:My Friends Are Getting Married Left And Right...:.
So, around December last year, a longtime friend of mine, Louanne, finally tied the knot with Erl. It was a very simple civil ceremony we weren't even able to see because we weren't witnesses, but the reception was nearby, and we were just so pleased to see the newlywed couple so happy and full of life. This wedding has been a long time coming, although all things considered, ever since, it hardly feels like anything changed, as Louanne and Erl have been practically married for years already, with how they absolutely adore each other.

Yay!


Met a lot of old friends who are part of the cosplay community there, including Kel and Retsu and even Alodia. It was pretty quiet for a wedding reception, but what stood out to me was this seemed to be a chain of weddings among friends that I've been privy to.

Just last weekend, blogger and makeup artist extraordinaire Bambi finally got married to Lee, and it was stunning how beautiful the wedding was. It happened in Fernbrook in Alabang, where although we got lost en route to it, our collective jaws just dropped at how enchanting the whole place looked. It really felt like you were right in the middle of a fairy tale, to say the least, and I couldn't contain how happy I was for Bambi finally getting married, as I've shared a ton of adventures and misadventures with her and other blogger friends over the years, and seeing her this happy really does the heart good.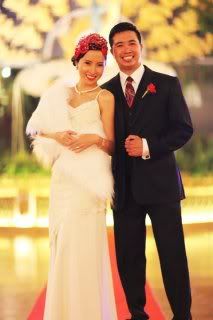 Careful, Lee! It's a trap! J/K. Picture courtesy of Mike Yu.


Within the rest of 2011, I know a few other friends of mine are getting married, so all in all, it's been pretty exciting to see them so full of love and happy. The hopeless romantic in me can't help but wish them all the best, and hope that indeed, their respective love stories will resonate in the hallowed halls of the greatest loves of them all. You can't really ask for anything more than that from some of your dearest friends as they embark on a lifelong journey of love and togetherness.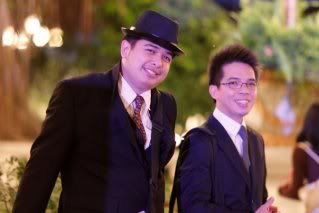 Yours truly with Fritz Tentativa.


Coming from less than an exemplary model of a family, I can't help but project what I would've wished for myself upon my friends. Then again, nothing stops me from breaking the pattern of annulments, divorces, and general mishaps when it's my turn, is there? This is, of course, assuming that I will get married, 12/12/12 notwithstanding.

But yeah, let's not get in the way of a heartfelt congratulations to Louanne and Erl, as well as Bambi and Lee!

.:Another Awesome Votre Night!:.

Last Wednesday night, all the comics came out and performed for a red-hot crowd who was just raring to laugh to get over hump-day Wednesday.

From the opener of Chino Liao to the amazing comedy and magic of Andres, to the finale of one Alex Calleja, this was definitely a night to remember as everyone really brought their A-Game in anticipation of a lot of people haven't ever seen us at work before. I even tried out some of my one-liner gags about music, and I was surprised that some of them actually worked pretty well.

Too bad I won't be there next week, though... because I'm gonna be in Camarines Sur, bay-buh!

Interesting moment of Zen, though...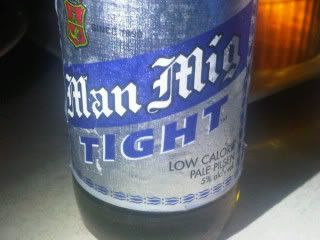 Man. Mig. Tight?