.:We Love Lucas: A Last Home Fundraiser:.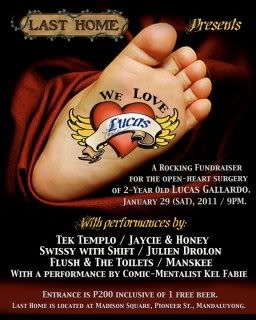 As most of you know, I normally do shows for a cause, and this is one of those shows where I definitely am behind the cause 100%. This is for Lucas's open-heart surgery, and as you can see in the poster, Lucas is a very young child, and as his life hangs in the balance, what's 200 bucks to give him a fighting chance?

Well, the show is happening tonight! What else can I say? Catch it, and oh, by the way, here's an interesting writeup about it in the newspapers...