.:Back On The Poc!:.
It's missing one particular visual gag, but
my latest article
is up on the POC now. Pretty fun stuff, if I do say so myself.
.:The New Year Roundup:.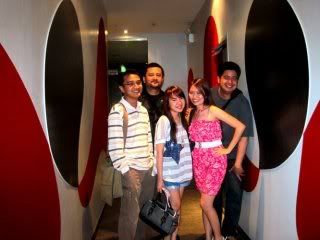 That's how you spend New Year's Eve Eve. Yep. Eve Eve. Not a typo.
My holidays have been fairly quiet, and mostly spent with the family, albeit stuffing myself at 7 Corners in Crowne Plaza was certainly quite a highlight as the food was just splendid.

Nonetheless, I think what really turned things around for me was nothing short of a buzzer-beater. Last December 30, I met up with Elbert, Moon, and made the acquaintance of Exie (Elbert's co-teacher.), and Sophie (Elbert's former student.). Considering that I haven't seen Moon since 2008, it was pretty great to spend time with her again, and this ragtag group of five had some fun in Red Box Eastwood, as we sang songs at a handicap, considering almost all of us came from some form of sore throat or some other.

In the middle of things, I ended up performing escapology and psychokinesis for them, but what I think was the highlight of the time we had was when I started getting into my aura reading for Sophie, which she found eerily accurate.

I ran into her about three years ago when she was still a freshman in Ateneo. Elbert asked me to catch his students' final projects, where they all performed musicals for English class, and I found it particularly amusing that the smallest member of the Hairspray cast was the girl who was playing the lead role that she must be underweight for by at least a hundred and twenty pounds. Who would've thought I'd see her again after all this time?

Anyways, the two of us hit it off very well from the get-go. Just like in the Motivating Minds Christmas party last December 28, as I tried to do some personality reading of Sophie, I was genuinely surprised at how much we had in common.

2011 is looking bright and sunny, indeed. May this be a year of friendship and keso!