.:The ToyCon 2009 Megapost:.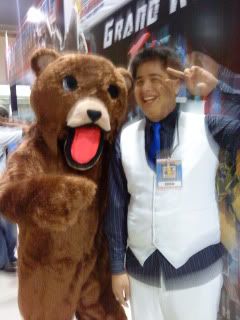 Pedobear with some guy in a brown costume...


For the past few Toycons, I have shown my support for the massive event as a street magician, entertaining patrons and cosplayers alike, whether alone or with my partner, Jay Mata.

Imagine my surprise when this year, instead of going back there to do another street magic tour, I was asked to host the event.

Now, you have to understand, although I've been hosting for years, and though I did host The TOEI-nty celebration in Eastwood, I haven't hosted too many cosplay events in my career. This one would probably officially only count as the third ever, in fact.

But what can I say? I've always loved the ToyCon, and it was one of the best ways to give back to the convention that has given me a playground where I honed and developed my magic craft for the past three years or so.

Having said that, you've seen reviews and albums of the event from various points of view already, but what I'm going to cover would have to be the backstage and onstage shenanigans that we've had over that amazing weekend. I'd remember my quips much better than anybody else, after all...

The Opening

The opening was a bit slow, but the fact that Santino from "May Bukas Pa" was there more than made up for it. He's obviously a big Transformers fan, so it was definitely fun to see that side of him, practically beaming with delight over the Transformers toys all around him.

My co-host was Fatima, who definitely played an amazing foil to my zaniness. As we've worked with each other twice over three weeks prior to that, we already had a good feel for each other's quirks, and it was going to be a piece of cake synergizing with her, as we really knew how to feed off of each other's energies throughout those two days.

After the opening, things were mostly about us coasting along, as we introduced speakers, bands, and the like. My mic woes were a tad amusing, as I kept on talking even if the mic was dead, but all in all, things were running pretty smoothly, for the most part. It all started to get interesting, though, just immediately before the individual cosplay competition happened.

Blown Fuse, Hard Ruse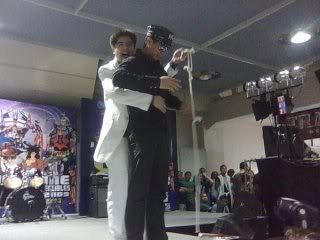 The rope routine was meant for Edjie, but I wasn't keen on risking bodily harm upon myself...


While Japan Baby was performing, a huge puff of smoke happened during their third song, then the power completely went out. Apparently, we blew a fuse, and this delay was definitely going to set back the cosplay event even more.

The judges were already seated and primed for the cosplay competition, but with the power out, we needed to buy time while they were fixing the problem. That was my cue to do a bit of magic to buy us time, and it definitely resulted in a lot of fan service for the audiences, as I opened with the Shanghai Shackles, then seeing how unwilling Alodia was to do my next routine, I ended up calling on Hard Gay for the infamous "Lady" and the Rope routine.

Looking back, I think that was really the better choice for me, though, considering how good the crowd reactions were. Not to mention the fact that doing the rope routine on HG instead of Alodia assured me that I will not be in any danger of bodily harm after the fact.

From that point, it was time for the cosplayers to strut their stuff, and boy, did they!

Individual Cosplay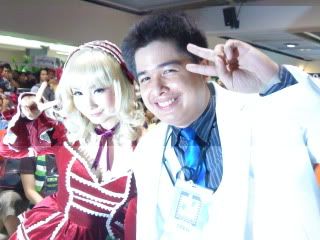 Yours truly with one of the judges, Alodia.


Five contestants in, and I noticed an alarming trend... it appeared to me that a lot of them were sporting swords. I just realized it, and it was unmistakable, to say the least.

I'd talk about the multiple punchlines I shamelessly hurled in their direction, but let's face it, other than the quip about Crissey sending me a "Chala Head Chala" track that broke my ears, I'll just let the 9-part video of the cosplay do the talking. Am I a rascal? Oh, yes I am. There's a reason why I'm regarded as a loose cannon, after all.

I even had "feedback" from an unexpected sector that I found rather amusing, to say the least. It was also a bit awkward to have to start the cosplay bit after the Chongkeez performed "Diksyonaryo", as I had to clarify the last line of their song with the parents.

In the end, we had Bumblechi, Darna, Rock Lee, and Samus as our winners.

Careless Whisper

I heard this song ten times too many on Day 2. On the second day, I got there late, and looking for a way to get the audience alive, we were asked to come up with a game for Mindstyle. Something. Anything.

So I went ahead and asked them to do a dance showdown.

With people dancing "Pokerface", "Careless Whisper", "Single Ladies", and the like, you just know that it was a fun time for everyone, to say the least, although a bit traumatic at times.

During group cosplay, I ended up hearing the song a total of 6 times. It was crazy, and the Yuti Yatballs will forever scar me after what they've done. Seriously. Having said that, I was pleased as punch to see the very well-made costumes of the Soul Calibur group pay off for them, as they walked off with the honors.

Afterwards, I just rubbed elbows with the ToyCon volunteers, and they were really fun to talk to, without a doubt.

Well, all in all, I must say that ToyCon was a very pleasant experience for myself, and it was definitely a blast.

And now, your moment of Zen: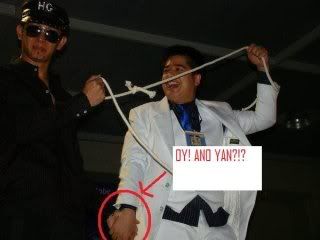 Tsk, tsk, tsk...