.:Comedy Cartel: Growing And Growing:.
Last Monday, it was Mike Unson's turn to headline the Cartel show at Spicy Fingers, and they even gave us a sneak peek into the news that they will be having a massive show this coming November 27 in Music Museum.
Performer of the night was Derf Hebrado. He was absolutely on fire last night, to say the least.
Things are looking up for the Cartel, as bigger and better things are definitely in the horizon. I can only hope that as I continue to work on my standup, I'd find myself part of this illustrious lineup in the near future. A mere three months ago, it felt like a pipe dream, truth be told...
Nonetheless, I'm happy that the Cartel has been growing by leaps and bounds. There's no question that this could only mean bigger and better things for Philippine standup comedy, and the elevation of this artform as time passes is something that the people who have pulled their share in raising the bar for standup comedy are finally beginning to reap what they've sown.
Speaking of sowing, what's showing this Sunday? Well, you guessed it: the first episode of "Front Act" featuring Mike and Stanley, 5:30PM on TV5. It's right before "Wow Mali".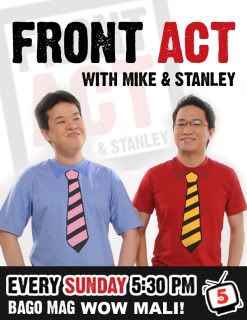 Uyyyy!!! Bagay sila!!!