.:Cosplay Fusion: The Aftermath:.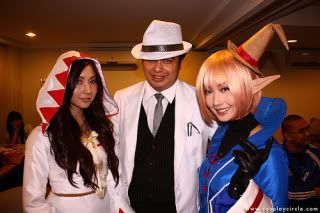 Myself with my co-hosts, Alodia and Ashley. Picture taken from Alodia


Cosplay Fusion has come and gone, and I must say that it was an enjoyable event. Considering that it was not anywhere near the scale of ToyCon, the fact that Powerplant management were awed by the sheer number of people who have gone to this three-day event is only testament to an awesome rookie outing for the people of Cosplay Circle.

With a Butler/Maid Cafe, toy exhibits, and a host of other activities, the highlight for last June 27 was the cosplay event, with one of the biggest payouts for cosplayers I've seen: 15,000 going to the best costume for the day. There were scads of controversy, what with the after-hours occurrence at the Cafe and some of your regular haters for the sake of hating and hypersensitive people, but in the end, the event was quite a success, and it was a chance for me to continue expressing my mini-tribute to Michael Jackson, as I was in full regalia that day.

By the way, speaking of butlers, lemme show you the ineffable Liezl...



Black or white!


I especially loved the fact that I saw my students from RIS during cosplay, and it was good to know they're all doing well...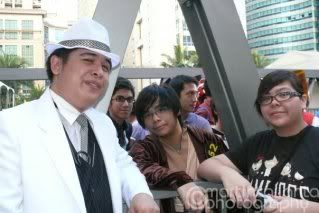 It's my TIMY moment! Picture taken by Martin Callanta.


Well, this was really a huge effort all around, and the winners were definitely deserving, considering how elaborate their costumes were. The second placer gets a special mention for having been from the Ragnarok manga, even though the event was sponsored by competitor E-Games. (I do hope he's recuperating well from his bout with leukemia, though. He's too young to go the way of Francis M., who himself was too young to go as well to begin with.)

My thanks to Alodia and Ashley for having me over. I definitely had a great time, and it was good to know I wasn't the only one who was sweltering in my outfit that day.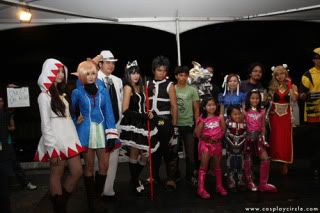 The winners! Picture from Alodia again.


Here's a recap:

1st Place - Abraham Cruz (brambear) as Mechagodzilla Kiryu from Godzilla
2nd Place - Cykah Malagad as Skurai of Ragnarok Manga
3rd place - Marx Ian Rulloda as War Machine of Ironman

Crowd Favorite - # 16 Michael Jan Geti-Ayon (Bordz) as Spartan from 300
Best Performer - #23 Kathleen Alfafara (Kia) as Chunli of Street Fighter
Youngest cosplayer - #35 Paulo Catibayan (12 yrs old) as Kakashi from Naruto
Special Transformers Award - Rommel Sales as Optimus Prime of Transformers
Best Anime - #19 Jazmine Huang (Jaz) as Ranpha Frontier of Galaxy Angels

Best Male Costripper - Vladimir Sanchez as Michael Jackson
Best Female Costripper - Mia Marquez as Gothic Lolita Girl
Best Kid Costripper - Sales kids sa Tiny Titans
Best Crossdresser Costripper - Ally Cosculluela as Female Joker

And of course, a couple of other pictures, because as you can tell, I really like my white suit...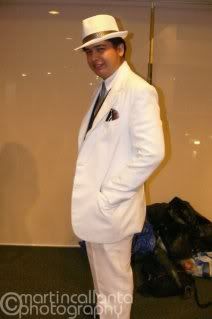 That's not garbage. That's a body bag. 'Cause he's sleepin' with the fishes now, you see? Picture by Martin.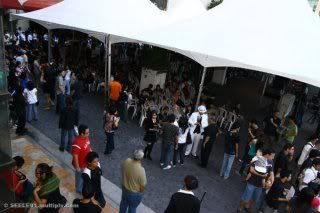 I am impossible to find in this picture. LOL.