.:House Speaker Prospero Nograles Promises A "Special Surprise" In Lieu Of Con-Ass After SONA...:.
According to very reliable sources, House Speaker Propsero Nograles has assured that there will be no moves to turn the joint house session happening during today's State Of The Nation Address into a Con-Ass, thus allaying the fears of certain sectors that President Arroyo's SONA this year will not be its last.
"We are not going to try to pull a fast one," intimated House Speaker Nograles, who was beaming widely as our reliable source interviewed him. "However, in lieu of pushing for Con-Ass, some of the most esteemed Congressmen in the Lower House have decided to prepare a production number."
While Speaker Nograles kept mum about this apparent surprise, "It's True! It's True!" can now confirm the nature of this special production number, and it's quite a doozy: apparently, in an effort to keep up with the times, they will be singing and dancing to a hit song from Korean Pop Stars "The Wondergirls".
Obviously very much in tune with the pulse of the nation, Speaker Nograles will be flanked by four other Congressmen, namely Mikey Arroyo, Matt Defensor, Ramon Durano, and Ed Zialcita, all glammed up and referring to themselves as "The Wonderboys".
The Wondergirls are, along with fellow K-Pop girl group 2NE1, being regarded as the "second invasion" of Korea on Philippine shores, the first of course, involving various Korean series, beginning with "Lovers In Paris", being a massive hit in the country, as well as the presence of Sandara Park in ABS-CBN, who is now a member of 2NE1.
Asked which particular song they will be performing after the SONA, a very excited Matt Defensor confessed it was the current smash hit playing even on high-end stations like RX 93.1: "Nobody".
"We wish to dedicate this song to our beloved president, because we believe that nobody, nobody but her could possibly do such a great job of leading the country," said Defensor, while he was performing the dance steps of the song's chorus in time with his fellow performing congressmen.
Citing artistic license, here are the slightly modified English lyrics of the Wondergirls hit song:
Nobody
by the Wonderboys
You know we still love you, Gloria,
And it will never change-ah. (Saranghe)

CHORUS:
We want nobody nobody but choo, we want nobody nobody but choo
How can we elect another, we don't even wanna bother
We want nobody nobody nobody nobody

Why are you trying to, to leave Malacanang
We know what you're thinking
To your lines, we are listening
How can we just
Just have elections in 2010
Forget you completely
When we know you still love the country?

Telling us you're not good enough
Our lives with you are just too tough
You know it's not right so
Just stop and come back, Ate Glo
How can this be
When you were meant to be

(Repeat Chorus 2x)


Why can't we just, just be like this
Cause it's you that we need and ZTE is our friend
Who else can ever make us feel the way we
We feel when we're with you, Noli will never do

Telling us you're not good enough
We know that bust job was pretty rough
You know you're a handful enough, though
You know what we need, Ate Glo
Right next to you is where we want to be.

(Repeat Chorus)

We don't want no body, body ('Cept your body, baby!)
We don't want no body, body ('Cept your body, baby!)

Honey you know it's you that we want, it's you that we need
Why can't you see~

We want nobody nobody but choo, we want nobody nobody but choo
How can we elect another, We don't even wanna bother
We want nobody nobody nobody nobody

Back to the days when we were so young and wild and free
Nothing else matters other than you and the economy
So tell us why can't it be
Please let us live our lives our way
Why do you push us away
We don't want nobody nobody nobody nobody but choo!!!
Asked to comment about their song being appropriated by the lower house, the Wondergirls stated how happy they are to be given such an opportunity "bigger than opening for the Jonas brothers."
On the other hand, Sandara Park of 2NE1 declined to comment about the issue, sheepishly admitting that their debut hit "Lollipop" had more relevance to the U.S. political scene during the Clinton administration than anywhere else.
In other news, blogger LA commented that the difference between a fairy tale and a SONA is that "
ang fairy tale, isang kwentong hindi totoo na may dwende
", while "
ang SONA, may dwendeng nagkukwento ng hindi totoo
". Pundits seem to agree wholeheartedly.
While they've
conveniently ignored surveys and other statistics
when they don't favor our beloved president, how much are you willing to bet they will be more than happy to count how many times they get an applause from the audience?
And now, your moment of Zen...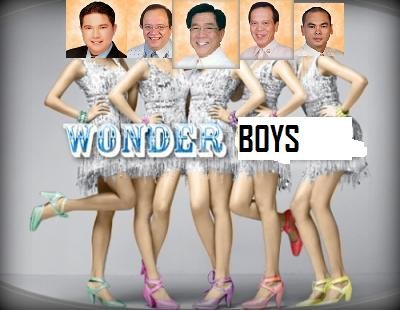 Nobody, nobody but choo!!!