.:Bon Voyage!:.
One of the most awesome people I know, Daphne, is going on a trip to the US for about a month. I'm gonna miss her, but I hope she has a great vacation there!
.:Bon Chance!:.

Awwww, yeah!


GB Labrador, comedian extaordinaire, will be having his second fundraiser show in Votre Bar on 24 September. You might want to catch it, as they're pulling out all the stops for this man's trip to the Hong Kong Comedy Festival. Going as well are Raffy Taruc, Noel Gascon, and Eri Neeman.

Last night though, I was there, and you missed a lot if you didn't go.



Now with more Luke Mejares action!


It was awesome that night, really. I opened after the musicians by doing the Shackles and some hypnosis, and with the crowd receptive for comedy, the house was packed with a ton of people just raring to be entertained.

Overall, this was one of the best nights courtesy of Votre, and I was glad to be a part of it. I'm gonna try to be there again next week as well, though...

Lots and lots of exciting stuff happening in the comedy world. Glad to be there in the thick of it.

.:Distilled Fellowship:.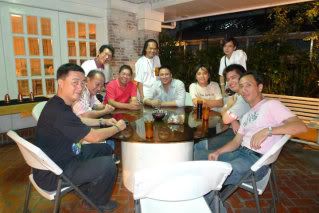 Last Tuesday, I was deeply honoured to have been invited by The Boss, Rannie Raymundo, to go to The Tavern and meet "the old guard of Philippine magic." Needless to say, I was stoked and very excited, as I had no idea what to expect that night.

So I got there a bit earlier than most other people, albeit the first person I ran into while walking into The Tavern was none other than Lou Hilario himself. Immediately, I realized that I was going to be surrounded by magic royalty, and the night certainly didn't disappoint.

A few of the many highlights of the night included the one and only Erik Ma, who felt like a truncated Erik Mana, a mini magic competition for a cool set of cups and balls, and a host of amazing stories from The Boss, the Maestro, Anthony Co, Jason, Lou Hilario, Hermann, the Chubster, and a host of other amazing people. From mentalism to coins to cards, everyone had something to share, and it was all for the sake of fellowship.

That night was truly distilled magic fellowship at its best. No politics. No BS. No egos flying in each other's faces. Just a bunch of people getting together to express their appreciation for the art form that has brought them all together. It doesn't hurt that there was excellent food to go around, either, and I'm still overloaded from all the new stuff I learned that night. I've tried only a few of them last Friday night, and it has been unequivocally amazing for me.

.:Teh Fish And Teh Meat:.



Mmm-hmmm...


With much thanks to Carlo Ople, Fish and Co genuinely surprised us a few days ago with some new meat items from their menu.

While I may have a shortage of words to describe the food, I have to say that I liked the lamb chops a whole lot. Considering how Fish and Co's fish won't be remotely affected by these new items on the menu, it's good to know that the selection has only gotten even better from this point on. No question about it: I wouldn't hesitate to go to Fish and Co if I ever wanted some good comfort food, because the stuff they have, from their fish and chips to their new meat items including lamb chops, breaded chicken with seafood, and grilled chicken with seafood, are made of win.

.:The Sweet Taste Of Victory...:.


Glad that my efforts weren't in vain, and I am definitely playing next week in the Scars of Mirrodin prerelease. Awesome.