.:245/365: Andster:.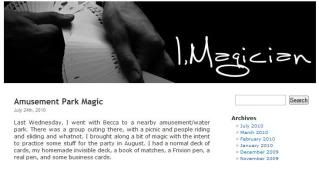 Andster is one of those rare gems of magicians who writes in a very disarming manner about the art form. Whether it be his self-deprecating style or his massive range of experience in different aspects of magic, or just his many different attempts at taking his show on the road, Andster's blog has always been an entertaining read, and I don't even remember anymore how I came across his blog over three years ago, to begin with.

In any case, I do heartily recommend that you check his blog out, even if he rarely updates it nowadays. His insights into magic are not only unique, but very much the work of someone who is a big fan of magic, even if real-life obligations can get in the way of his semi-professional ways. As a former teacher, I can definitely relate with his being a professor who likes doing magic for his students every now and then. That's cool, to say the least.

Check the blog out. It's great, it's light, it's interesting, and you can't go wrong with Andster's writing.