.:260/365: Penn Jilette On Twitter:.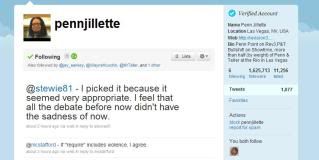 Penn's Twitter is a goldmine of ideas and comedy, as he tends to talk about a wide variety of things here above and beyond magic. From his atheism to his magic to his awesomely-named daughter, Moxie Crimefighter, Penn's Tweets tend to be quite a highlight among all the Twitter accounts I follow.

If you want to listen to the loudmouthed half of Penn and Teller, make sure to follow him on Twitter. Boy, has he got a mouthful.

.:261/365: Raymond Teller On Twitter:.


Since it's such a rarity to hear Teller speak, it's pretty amusing to actually see how much of a chatterbox he can be on Twitter. Check out Teller's Twitter here. He covers a wide range of topics.

You know what I've always been hoping to see? Penn and Teller actually arguing about a topic because they're not on the same page about it. Teller always seems so complicit, but I think that he and Penn would be very much at odds on a lot of things.

.:262/365: Andrew Mayne On Twitter:.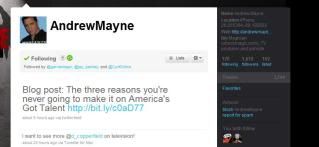 Andrew Mayne, the man behind the likes of Gutbuster and Inversion, can also be followed on Twitter. While I will probably want to talk about his blog more soon, for now, I think it's a good idea for you to get some cool ideas from his Tweets, as he has contributed more than his fair share of amazing effects for the magic industry to use.

I'm a big fan of his approach to magic. Even if he is also a working performer, his point of view appears to be that of an outsider (Who's in the know, but still an outsider, nonetheless.) looking in. I sort of have the same approach, so I can definitely relate to his style, to say the least.