.:263/365: The Last Greatest Magician In The World:.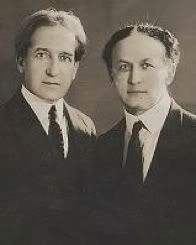 Jim Steinmeyer's books have always been highly anticipated and stuff of legend. This book, coming out early next year, will focus on Howard Thurston, and although this is mainly a biographical book, it appears Harry Houdini will also have a significant part in this book, perhaps highlighting the not-hostile but all-prevalent rivalry between two of the best magicians of all time.

Now, if anyone has read Steinmeyer's "Hiding The Elephant," they would know that Jim writes excellently, and is every bit as passionate about magic as he is a great writer. With that in mind, I eagerly anticipate the release of this book, because as detailed as all the biographies and documentaries about Houdini happen to be, Howard Thurston doesn't get nearly enough press, and it's about time people recognized him more.