Entering this long weekend, I decided that these smorgasbords for the month, to make them easier, would be about magicians you should be following on Twitter. Well, it's still "recommended" reading, and I think the one-line quips you get from these people can be both amusing and useful, to say the least.
.:253/365: Andy Nyman On Twitter:.

Andy Nyman, the partner in crime for celebrated mentalist Derren Brown, is also an accomplished actor, and a veritable movie buff. You will notice in his tweets that he hardly (if at all) talks about magic or mentalism, but his insights into the entertainment industry definitely are worth a read. Given the brevity of Twitter, it's actually a wonder how much he can pack into 140 characters, to say the least.

I've always liked Nyman's style, and the contrast that he demonstrates when paired with Derren Brown. Despite the unmistakably British characteristics of Nyman's performing style, there's no mistaking his different approach to performances, and how his ideas can definitely shape Derren Brown's subsequent performances in a way only Derren could possibly interpret.

.:254/365: Jay Sankey On Twitter:.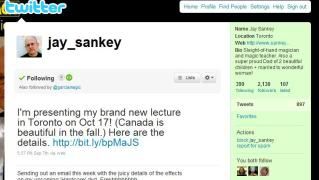 Jay Sankey may not be my favourite magician, but the man is a very generous soul, and his Tweets are filled with oodles of useful stuff for magicians, especially since he likes showing teasers of his new material, of which he never seems to have a dearth of.

As one of the most prolific minds in the magic industry, it's hard to not pay attention to Jay Sankey, because when the man comes up with a gem, boy is it a gem worth keeping and using for the rest of your magic career. Lucky followers of the man even got free previews of his latest material, and even found out the method to the new effect before it was publicly released.

Sankey is definitely one of the foremost contributors to the world of magic in the past decade. That much can't be denied.

.:255/365: Daniel Garcia On Twitter:.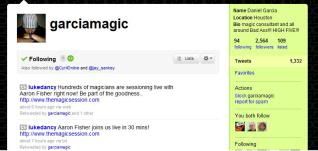 A man with a very offbeat sense of humor and more self-aware than practically anyone else you could ever think of in the industry, Daniel Garcia's Twitter is a lot like Sankey's, in terms of covering a lot of ground when it comes to magic.

Ultimately, you can't go wrong following DG's Tweets, if you're a magician. The guy just can't miss with his material. He has consistently had reliable effects, and the fact that he has given every street magician hope in being able to perform a card through window effect without any secret assistants involved is nothing but sweet, sweet gravy.