.:264/365: Andrew Mayne's Blog:.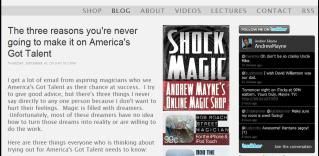 Andrew Mayne's blog has got to be one of the most direct and useful blogs out there when it comes to practical, real-world advice for fellow magicians. While most other magic blogs will sugarcoat their words when they try to give useful advice, Andrew Mayne decides to go for the jugular and just outright emphasize why some magicians work and some magicians don't in this dog-eat-dog world of entertainment.

Whether it be his thoughts on magicians who try to get on TV, thinking that exposure to television will be their ticket to instant stardom, how Twitter should be used by magicians, or various other hot-button topics for today's magicians, Mayne has a very straightforward way of laying everything out. He doesn't mince any words, and he clearly knows what he's talking about.

If there's one particular magician you should be listening to when he offers advice, it's Andrew Mayne. He understands what it takes to break into the mainstream, as most magicians tend to be stuck with what made them successful only to a certain level. It takes a fresh pair of eyes to look at how to jump the gap to the next level, and Mayne really has a keen view for it.