.:266/365: Why Am I Stuck In Magician Hell?:.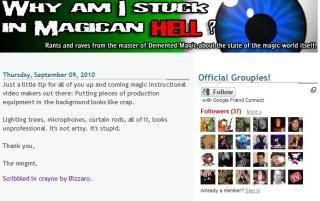 I just started reading this blog earlier this week, and I'm already a huge fan. Here's a guy who really rants about the hazards of being a magician, and instead of coming across as some whiny cynic, he actually ends up offering a lot of very good advice for other fellow magicians, who don't really see the bigger picture of the stuff they do.

With a funny and quirky writing style all its own, this blog is a must-read for magicians who are way too used to being led by the hand and sugar-coated all the way. Hard to go wrong with gems of wisdom explaining why no magic act can ever be expected to win America's Got Talent, simply because AGT and similar shows are just glorified song and dance contests, and variety acts are there only to add spice, but never to ultimately steal the show.

Yes, that includes Terry Fator. Even if he is a ventriloquist, you have to realize that he was, first and foremost, a novelty musical act.