.:Coffee Bean And Tea Leaf's Flash Fiction Workshop:.
Tuesday night last week was an event marked by an amazing influx of creative juices and other unique bodily fluids. No, not really, but Coffee Bean And Tea Leaf gathered three amazing resource speakers,
Dean Alfar
, Ocs Alvarez, and Mike Cabardo. Jay Mata and I were present, and it was really interesting considering that Jay went to Dean's pod, while I went to Mike's pod, since I wanted to give video a try.
So of course, I was in there with the usual suspects
Coy
and
Fritz
, which resulted in much fun, albeit the final output for our efforts, a very amusing "magic" video, is still nowhere to be found online (Until just today, actually.). Jay wrote a pretty cool essay though, entitled "Meh".
Having said that, after the party, Jay and I obliged
Poyt
, and we performed some magic for her friend as she took pictures. Obviously, these are pictures from *her* camera…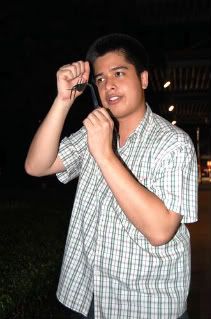 It was an awesome time, and nothing made my day more than to hear Dean's kind words about me, as he called me his "favorite magician"…

And thanks to Cokskiblue, here now is our collaborative vlogging debut! Hope you like it! =P