.:Crazy:.
Here's an exchange of SMS's between me and my mom...
Marcelle: Sleeping over at a friend's house.
Mom: Okay. I trust you.
Marcelle: I won't do anything you won't do. Don't worry.
Mom: That's what I was afraid of...
.:Memorable:.
Saturday was nothing short of memorable. I'm pretty happy with how things turned out. My wrist still hurt like Hades, but I managed to ignore it for the most part.
Day started off with Methods in Research class. To my horror, I've had too many clerical errors in my paper, and I can't help but feel exceedingly nervous about my grades. In order for me to not do my thesis, I need four A- papers, and I cannot accomplish that if I continue to eff up my work like this. Darn...
Anyways, after that, I swung by Hobby Haven, and I ran into Peppy there. Not much, but I managed to have a short moment to speak with Jason and The Jess. It's all good, though. My gratitude to Jason for the couple of
haikus
he gave me. Oh, well.
I then went off to Greenhills to continue getting some more card protectors and all. I managed to try out how my deck works against a different opponent, and then I finally headed off to Megamall, and just had a few arcade games before meeting up with Markpoa. On my way out of Powerbooks, I ran into Abby and Bro (Who now had hair!), and behind them was Markpoa. Introductions were made, and then Mark and I left for my house a couple of minutes later.
.:The Celebration:.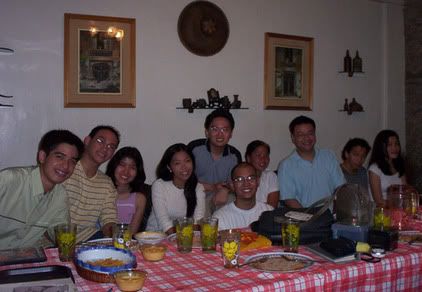 From left: Me, Bro, Abby, Grace, Markpoa, Peppy, Kathy, Dominique, Herbs, and Krisette.



I got to my house soon enough, and found out that Dominique was already there. We just conversed for the most part. It was fairly clear that the three of us had a lot of common ground, from anime to wrestling. The match between HHH and the Ultimate Warrior made me sympathize with Hunter for a moment... heh.

Soon enough, Abby and Bro arrived. More talk happened, and then Peppy finally got there. The conversation then turned to GTO, and how that anime series actually inspired me to teach.

Marcelle: Actually, GTO is about this guy named Onizuka who wants to score with his students, but ends up being an amazing teacher instead. I want to be like that. Except for the scoring part, of course.

Peppy: Hintayan niyo na lang yung VCD...

Heh. That was a line...

I showed the video of us doing fire spinning to Bro and Abby, and they were mystified at the crazy stuff the group does. Of course, I was nowhere to be found in the video, but that's all right, I suppose. Kathy then took me by surprise and came to the party, and it wasn't long before Abby and Bro finally left, which, to my amusement, was precisely the moment Grace, Krisette, and Herbs showed up, making my photo session complete barring Ranulf.

In any case, Peppy was teaching Dominique to play Magic and L5R, while I was talking to Kathy, who was bushed, but seemed very happy. She mentioned she was in cloud nine, and then I asked her if cloud nine had anything to do with having a boyfriend. She promptly shook her head, and then I told her that was good, because if it were, then cloud nine wouldn't last. The funny thing is, Krisette nodded vigorously to that..

A few moments later, I was showing the pictures in my phone to Krisette. She was practically gawking at Shar Tan in the pictures... heh.

Talk about a certain person then ensued, about how nice she actually was and all, although she has yet to get married...

Marcelle: I know she's cute, but she's too old for you, Dom. She's 30.

I'm sorry, Dominique. The age joke was too strong to resist... I think there was a whole bunch of that, even. Peppy remembers most of them, though.

Later on, an analogy from Kathy...

Kathy: Me and him? That's like saying Dom and my sister would be going out.

Marcelle: Uhh...

Kathy: Wait. That's like saying Marcelle and my sister were going out.

Marcelle: Not in a romantic sense, but yes we were, Kathy...

Food was great. In fact, it was so great, that I scared the Hades out of Krisette and Herbs, as I told them how good the food was from outside the house, making them think there was a ghost behind them or something...

We had a bit of videoke, although shortlived. I'm sure the DVD Krisette brought would come in handy some other time, though... all those cheesy love songs... heh. Krisette, Kathy, and Herbs left already, but not before being reintroduced to the "long-haired dude", Ranulf.

When it was just myself, Grace, Peppy, Markpoa, Ranulf, and Dominique left in the party, we finally managed to go online and chat with Sach. She was exceedingly nice to me, greeting me and all. The "cake" and the "cat" were nice. I think that her nice thoughts really made my day even better, and our conversations were pretty interesting, to say the least. She appreciated my typing on and chatting with her, even though my wrist was hurting like Hades at that point.

Soon enough, she and Dominique chatted, and I realized that there are just some old habits that simply die hard as far as I'm concerned...

About half an hour later, everyone finally left, but I was still really beaming over the whole night's events. Wish certain other people also went, but that wasn't under my control...

.:Personalized Gratitude:.

I'd like to thank the following people regarding last Saturday:

Mich, thank you for having met up with me last Friday. While this has nothing to do with Saturday, I really, really appreciated your letter, and your telling me that I have great potential in my teaching career really means a lot to me. Thank you for being one of the closest friends I ever had in my college block. There was something about you that made me feel at ease. I guess you were one of the few people who didn't judge me for my quirks and all...

Kathy, thank you for showing up on such short notice. I really wasn't expecting you, but your presence was both a welcome and much-appreciated surprise. I was worried about your being too exhausted and all for the most part, so I'm glad you seemed fairly pleased enough with the party...

Markpoa, thank you for being there, and for the CD that contains all those great comics and wrestling matches. You're arguably one of the most creative people I know when it comes to giving presents. Thanx a lot for the CD. I really, really am enjoying it...

Peppy, thank you so much for bringing and lending me the Punisher DVD, trying out pasta for a change of pace, and taking Grace home. I am not so sure if I should be thanking you for the Kung Pow DVD... I might regret it. =)

Abby, thank you for simply being there after around five years of inviting you to my birthday celebrations. I really appreciated it, and I was genuinely surprised with your present. The Eraserheads Anthology is, without a doubt, a splendid present. I'm grinning from ear to ear, just thinking about it.

Bro, thank you for being there. We've known each other for most of college, and I'm glad you were there to ensure Abby never really felt out of place. Thank you for taking good care of one of the most special friends I've ever had in my life. =)

Ranulf, thank you for bringing your Highlander cards and "corrupting" Dominique to the way of the CCG's...

Krisette, thank you for the splendid DVD of cheesy love songs. I'm sure this will really go down in history as one of the most memorable presents ever. =)

Herbs, thank you for being there and being very appreciative of the food. My mom was pleased as punch to hear about the compliments.

Sacha, thank you for taking out the time to chat with me, and for granting my prior wish on my birthday last Wednesday. That meant a lot to me. I'm also grateful for the "cake" and the "cat", and for your splendid way of making me feel special.

Dominique, thank you for being an important part of the celebration. From your "advice" in your letter to the videoke mic which you managed to borrow from Mrs. Chua to your being such a great sport, I thank you. I don't think the party could've worked half as well without you around.

Most of all, GRACE, thank you for this:




I think this should say everything I need to say. I love you. Thank you for being one very good reason to wake up in the morning...