.:The Joke:.
Card Name: Platinum Angel
Card Type: Artifact Creature- Angel
Casting Cost: 7
Power And Toughness: 4/4
Card Text: Flying. Your opponent cannot WIN the game and you cannot lose the game.
The joke: Because Champions of Kamigawa was not yet legal, I got DQ'd for playing a CoK card. What does the player to my right say?
He can't lose! He has Platinum Angel out!
Sheer hilarity.
.:Noteworthy:.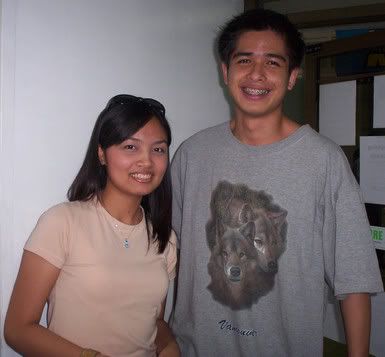 Jason, this one's for you... pag okey na yung picture. ;)


I can't help but be pleased as punch with today's goings-on. For the most part, I really didn't do much beyond play cards in Neutral Grounds and make a few key purchases. It was really important to me to just go and get some really important things out of the way, so I really gave a lot of effort to acquiring sideboard stuff...

Still, before the whole deal with M:TG, and the planning with April for something special soon regarding someone familiar ;), I met up with JayBee today, along with Daws, one of her co-campus Aircheckers. It was all good, really. It was pretty entertaining how things turned out in the booth, as they were marveling at how nice our facilities in WAVE were, compared to theirs. I can't help but agree with them, though. Considering how rich GMA is, I would assume that they can afford something... better than that...

I mostly entertained them by telling them about how things work in WAVE, from the playlist clock that we follow, to the song remixes that I'm pretty sure they haven't heard yet, particularly the Usher and Kalena remix of Confessions Part II. I also played that remake of Tamia's for "Careless Whisper", and yes, I was on my own, as Robi seemed to be on leave for a week. One of the listeners was really distraught over that, though... is she a rebound girlfriend or something? Oh, well... not my business to find out...

In any case, I had a nice time talking to JayBee and Daws. It was fairly entertaining, to say the least, and I was immensely pleased with how things turned out for the most part. I only hope that I managed to entertain them well enough and not let them feel so left out, in spite of my being rather busy with the console and being online as such.

After my boardwork, I left with them to her mom's office, so I already met JayBee's mom. Nice, people...

Imagine what would've been the case if I never even went to LS on that day... I don't think I'd be showing up there much any longer, really. Meeting JayBee was mostly by chance, so I guess it's something to be grateful for that I have a friend like her...