.:Diyes Is It!:.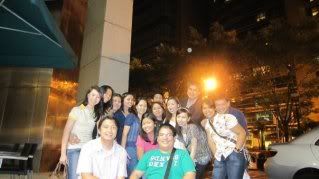 Hayskul life, oh my hayskul life...

If my DBTC homecoming was marked by the fact that I saw only four other people from my batch (And they were all classmates.), the DBS homecoming was marked by the fact that batch 2000 came to the venue armed to the teeth.

It was good seeing old friends and classmates, albeit I was the only guy in my batch who went there and didn't have a girlfriend or wife from the batch. Nonetheless, I felt right at home as I caught up with my friends from the batch.

It was crazy, really. From bonding with Mrs. Penano to hearing from Iza after all this time and discovering Apol's married, to seeing Eky and feeling like it's just another weekend (We hang out a lot. LOL.), everything was just surreal. The fact that we had an after-party to cap off the night with a massive table occupied by former DBS students was

.:Tasteh. Ravioleh.:.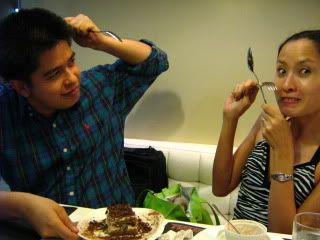 En garde!


Thanks to Arpee, I found myself in a very quiet dinner for a few bloggers with the likes of Ryan, Karla, Sha, and Bambi in Bistro Ravioli. Ultimately, it was a very great experience, and the owner, Princess, was nothing but gracious to us.

We tried out pizza, ravioli, buffalo wings, and even desserts. The pictures of the food don't do justice at all (You can catch most of them in Arpee's blog.). You just need to taste the food to find out how delectable it really is. I'm a sucker for cheese, cheese, and more cheese, so I went for their four-cheese pizza and their spinach ravioli. Needless to say, I was floored by the food. The noodles are hand-pulled and fresh, the dough is baked on the spot, and all the ingredients are top-notch.

As a guy who loves Italian food, it takes quite a lot for me to stand up and take notice of a restaurant. You either have to be exceptionally economical (Like Fazoli's.) or exceptionally good (Albeit not necessarily worth the price, like Italianni's.) for me to bother to talk about the food. Bistro Ravioli is good and very affordable. You can find it in Mall of Asia's south wing on the second floor, while another branch with a different menu, Ravioli, can be found in Robinson's Galleria's foodcourt. It's like an oasis there. You can't miss it.