.:44/365: Death-Defying Acts:.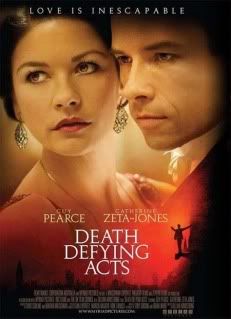 It seems to be a season of magic-related films.


Fans of Harry Houdini and escapology will be delighted to know that a romantic thriller loosely based on his life has been released in movie form, and it's called "Death Defying Acts". It's a rather interesting love story with a bit of mystery, mysticism, and twists involved, but ultimately, we find out that the first marquee name for escape artistry did love someone in a way that defies logic and convention.

Guy Pearce was on point throughout this film, and is a sight to behold as Harry Houdini. The very engaging storyline of his willingness to debunk psychics while at the same time praying to find a genuine one to quell his "ultimate shame" is a storyline that serves as a perfect backdrop for two very unlikely lovers in Houdini and the very psychic he is trying to debunk and believe in at the same time.

Give this film a watch. I can't say much about it as I don't want to reveal too many important plot points.