.:Grand Beginnings:.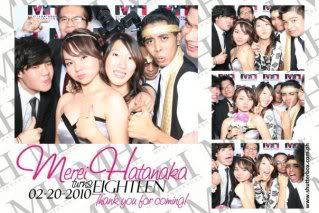 Happy birthday, Merei!


I may not be much of a cosplayer, but over the years, I've made friends with quite a few of them in the circles.

When Merei asked me to host her debut a few weeks ago, I was stunned. And honoured. Among the cosplayers, Merei was one of the closest friends I ever made who wasn't part of cos.ph or one of Crissey's friends. I found her to be very smart, articulate, and wise beyond her years.

Last February 20, I hosted her debut, and amid all the pomp and festivities of the night, I was simply happy for the debutante, because this was her shining moment. She had friends who loved her, parents who would do anything for her, and even foster parents who would never turn their backs on her. Everything is simply within her grasp, and all she has to do is reach out to grab it.

Well, I don't have much else to tell you that hasn't already been said last weekend, Merei, so welcome to the wonderful world of adulter... errr, adulthood! Your friends are here with you every step of the way, and always know that we care for you.

.:Standup Night Last Tuesday...:.

Admittedly, not one of my best, but magic went over very well. It's a bit unfortunate that some of my best hits are no longer available since my phone got stolen, but what can I do? I've had 10 or 11 standup sets so far this year, and my best one was the one at House Of Runes, which unfortunately was recorded by my cellular phone, which meant it no longer exists. Oh, well. So much for posterity.

I was a bit stoked to discover that my name was in the latest Comedy Cartel poster. It's really tiny, but it's there.

And March 6 is a day to be excited about, since Mike Unson will be doing a workshop on standup comedy in The Fort, in Fully Booked. Don't you dare miss it.

.:Onwards, Weekend!:.

My weekend started off great with a good show in the Disenchanted Kingdom in the morning, even if it was just me, Cleo, and Ruckus Red in the house. Logan and Marf were... indisposed.

Nonetheless, we had good conversations all around, and it went over really well, to say the least.

Then, en route to ending my day, my phone got stolen. Again. While I backed up most of the stuff there, some things I had are now simply... irretrievable. Rather unfortunate, but here's to more emotional spring cleaning.

.:Published For Blogwatch This Time!:.

Here's an article I wrote for Blogwatch. It's about Mike Defensor, and whether you support him or otherwise, I hope you find it enlightening.

If this were a race of who has the best catering, though, Mike Defensor wins, hands down. There's a lot to be said about good roast beef, since that's so bloody hard to find nowadays.